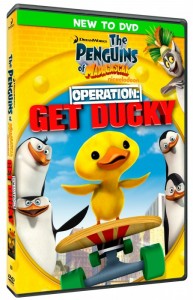 The Penguins of Madagascar
Operation Get Ducky DVD
Dreamworks
Release date 2/14/12
Synopsis: Those wacky Penguins are back for eight exciting egg-ventures featuring their newest pal, Ducky and a few bunny friends. After Marlene discovers a lost egg, the Penguins volunteer to egg-sit until they can find its mother. When the egg hatches the Penguins put Ducky into Penguin training, but King Julien is jealous and wants to raise the duckling to be his second in command.
The Penguins of Madagascar remind me of the classic cartoons I used to enjoy watching afters school. They are silly and fun. Younger kids will enjoy the silliness and older kids will "get" the humor.
There are 8 fun and punny episodes featuring the quirky penguins and a cute new arrival – Ducky.
Paternal Egg-stinct
Hard Boiled Eggy
April Fools
Seige The Day
Operation: Neighbor Swap
Otter Gone Wild
Two Feet High and Rising
Sting Operation
The whole dvd is entertaining. Since the episodes are short, kids can watch one or two when they don't have time for the whole dvd.
The Penguins of Madagascar are good, kid-style fun!
WHERE TO BUY – The DVD is available at a discount on Amazon.
Disclaimer/Disclosure: Review sample provided to me.