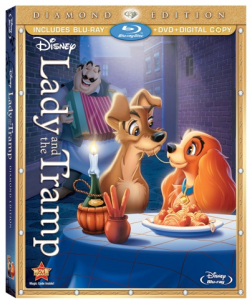 Lady and the Tramp
Diamond Edition – Blu-ray/DVD + Digital Copy
Release date 2/7/12
Synopsis: A classic love story unfolds in the best Disney tradition as a lovely young pedigreed cocker spaniel named Lady, who lives a pampered life, finds herself falling romantically for Tramp, an amorous street-smart pooch without prospects. Although they have fun together on several dates, including a sentimental spaghetti dinner by moonlight at Tony's restaurant, their relationship is strained not only by Lady's loyalty to her human family and their newborn baby, but by Tramp's devil-may-care attitude that eventually gets Lady in trouble and tossed into the dog pound. However, good-hearted Tramp redeems himself by saving the baby from potential harm and thus wins Lady's love and the affection of her human family.
This movie brings back so many memories for me! When I was a kid, there was no such thing as Blu-ray, DVD or even VHS. TV was just a few channels that we picked up with an antenna that had to be angled just right. Seeing a Disney movie was a big deal that involved a trip to the movie theater for a matinee with neighborhood friends.
I can remember seeing Lady and the Tramp with friends and then letting our imaginations take over as we reenacted scenes from the movie and made up some new ones.
It's great that Disney has brought Lady and the Tramp back bigger and better than before. The picture quality of the dvd and blu-ray are much better than my old VHS and what I remember from the movie theater. The original is great, but these are even better.
There are lots of fun bonuses that will appeal to older and younger Disney fans. I always enjoy the commentary and additional history of the movie. There are also some fun deleted scenes that haven't been previously released.
WHERE TO BUY – The DVD is available at a discount on Amazon.
Disclaimer/Disclosure: Review sample provided to me.