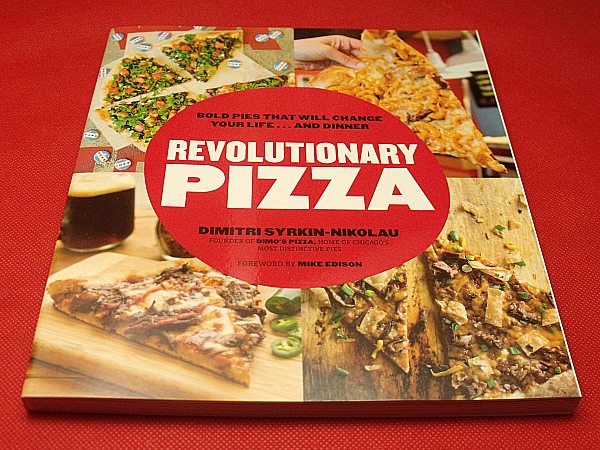 Everyone likes pizza, right?
The usual toppings are good, but with the interesting combinations in this cookbook you can kick it up a notch.
The author of Revolutionary Pizza, Dimitri Syrkin-Nikolau, is the owner of Dimo's Pizza that has two locations in Chicago. The Pizza place is known for their clever creations and now we can learn how to make them ourselves with this cookbook.
Revolutionary Pizza covers the three basic parts of a pizza – the crust, sauce and toppings. Once you've got the basics down, the possibilities are endless.
Here are a few of the pizzas that I would love to try:
Elotes (street corn with cilantro and lime)
Falafel (falafel, hummus and vegetables)
Cheesy Potato
Salad Pizza (veggies & balsamic vinegar)
Smack 'n' Cheese (macaroni and cheese with chipotle peppers)
As you can see, just about anything can be turned into a pizza!

Revolutionary Pizza

Bold Pies that Will Change Your Life…and Dinner
by Dimitri Syrkin-Nikolau
isbn 978-1624140501
Pub. date 7/1/14
Description: "Why bore everyone at the dinner table with the same old cheese and sauce combination when you can have pizzas like The BBQ Porkabella, Steak 'n' Eggs, Spinach and Bean Quesadilla or Chicken 'n' Waffles? With Revolutionary Pizza by Dimitri Syrkin-Nikolau you'll be making tasty, one-of-a-kind pizzas that your friends and family will always remember."
Enter daily through the Rafflecopter giveaway form below: