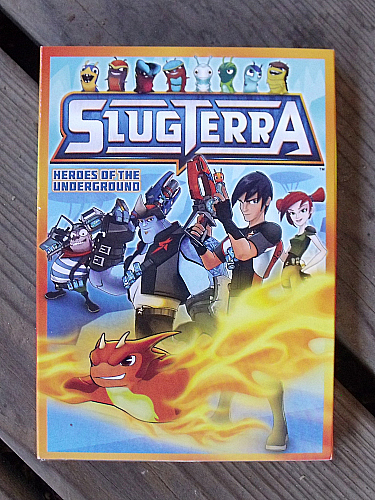 Have your kids gotten hooked on Slugterra?
The TV series originally aired on Disney XD and episodes are now available on DVD. The Canadian animated show is an entertaining combination of action, sci-fi and comedy. It's fun to watch one episode, but is even more fun to get involved in the whole series since the stories and characters are well-developed.
These are not the average slugs that you'll find in your backyard. These slugs are powerful little beasts who can fight off evil with their skills. There are three different types of slugs and each one have their own special skill set and characteristics. The battles are full of action and the whole series is very imaginative.
Slugterra
Heroes of the Underground DVD

Shout! Factory Kids
Release date 3/4/14
Synopsis: "In this collection, join our hero Eli Shane, his gang of slugslingers, and his best slug buddy Burpy on their numerous adventures. Whether they are thwarting a mad scientist, facing an Ice Ogre or questing after fabled treasure, Eli and the rest of Shane Gang prove they are ready to slug it out!"
Heroes of the Underground includes 5 episodes:
Snowdance

Inheritance
A Distant Shore
The Journey Home
Roboslugs
There are also bonus "Slugisodes" and a fun feature that will teach your kids how to draw their own slugs.
Enter daily through the Rafflecopter form below:
a Rafflecopter giveaway