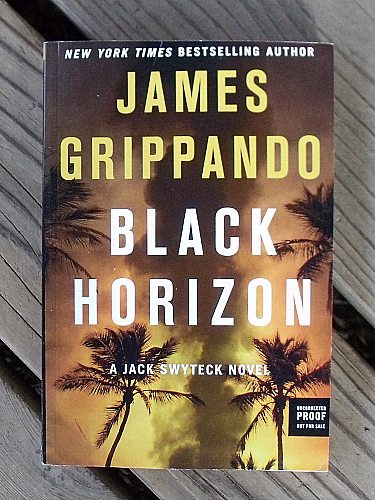 I'm hooked. I am actually surprised that I hadn't discovered James Grippando's Jack Swyteck Novels before now, since there are so many of them. Now that I've experienced Black Horizon, I know I'll need to read more of these.
The author mixes fiction with current events in a way that makes the book feel real. The characters and situations are made up, but they are tied to the present so that the whole thing feels believable and possible. It's as if this could be a news report instead of a creation of James Grippando's imagination.
Jack Swyteck is an attorney and his new bride is an undercover FBI agent. What starts out as a romantic honeymoon in the Florida Keys turns into an international thriller involving politics and a looming environmental disaster. The book is hard to put down once you get started!

Black Horizon

A Jack Swyteck Novel
by James Grippando
isbn 978-0062109880
Pub. date 3/4/14
Description: "Miami attorney Jack Swyteck finds himself in the middle of an international legal battle over a Cuban oil spill that sets him on a deadly mission. Three summers after the Deepwater Horizon environmental catastrophe, oil is spewing into the ocean again, this time from a drilling explosion in Cuban waters just fifty miles from the Florida Keys. The slick is headed straight for the United States, but the Cubans refuse American offers to assist with the cleanup, and threaten to fire on "hostile" U.S. vessels entering their waters. Backstopping the Cubans is the powerful consortium that owned and operated the rig, and is tied to the Chinese, Russian, and Venezuelan governments, who stonewall all inquiries and relief efforts."
Enter daily through the Rafflecopter form below:
a Rafflecopter giveaway