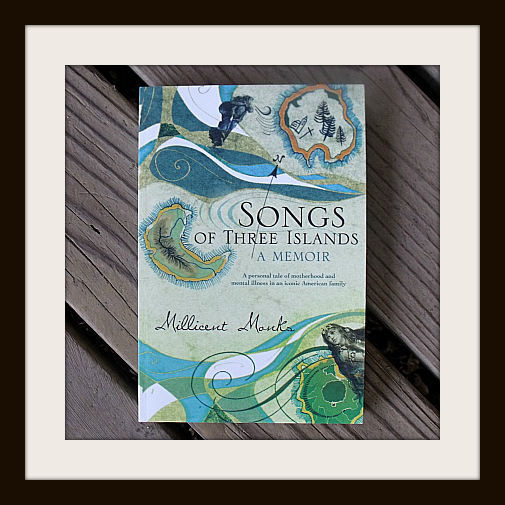 Carnegie is a familiar name that instantly brings to mind images of wealth and business success. Other than knowing about the family finances, I didn't really know much about their personal lives until I received this memoir.
Mental illness is difficult for the one who has it and those who love them. People are a bit more open about it now than they were a few decades ago, but there can still be stigma and shame attached to it. Being in the public eye would, naturally, add a whole new dimension to the struggles of handling and accepting the realities of the illness.
Songs of Three Islands is a beautiful story that will touch your heart. Those who have experienced mental illness in the family will be able to relate to this on a deeply personal level. Those who haven't will gain empathy and understanding. The struggles and challenges began when she was a child and continued on when she had a daughter of her own. It's heartwarming to see the love and peace that have come out of these difficult times.
Songs of Three Islands

A Memoir
A Personal Tale of Motherhood and Mental Illness in an Iconic American Family
by Millicent Monks
isbn 978-1935212447
Pub. date 10/8/13
Description: "Millicent Monks was born into one of the most famous families in America; her great-grandfather was the brother of Andrew Carnegie. Their fabled wealth enabled them to amass great houses and even private islands, but it was a dynasty torn apart by a succession of tragedies: suicide, alcoholism, and extremities of mental illness were passed on from generation to generation. For the women in the family, the consequences of this legacy have been painful. After a difficult childhood, the author's daughter was diagnosed at the age of eighteen with what is now known as borderline personality disorder, a debilitating mental illness that was for the parents — in the words of the novelist Sebastian Faulks — "a public shame as well as private devastation." Like all mothers of children afflicted with this condition, Monks suffered from guilt and self-recrimination as she struggled to heal a disease that had no cause but for which she was held responsible."
Enter daily through the Rafflecopter form below: