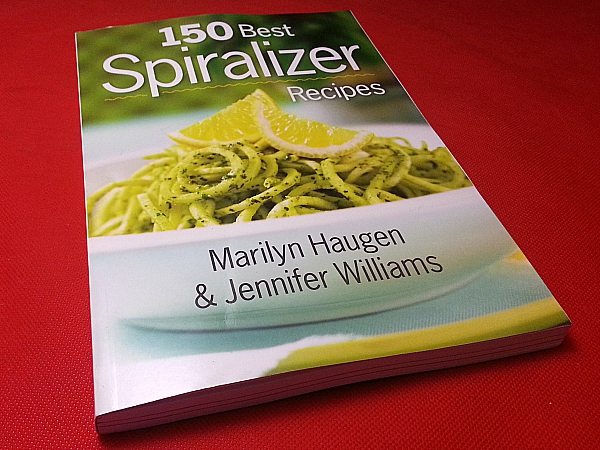 Do you have a Spiralizer? I've been thinking about getting one of these inexpensive gadgets that quickly cut vegetables into a spiral shape. Now that I've seen the recipes in this great cookbook, I know I've got to try them!
If you don't yet have a Spiralizer, most of the recipes can be easily modified to use veggies that have been cut by hand. They just won't look exactly the same.
Along with the recipes, the book includes basic information that will help you get good results cutting a wide variety of vegetables. There are photographs, step by step instructions and helpful tips, so that you can create beautiful and delicious meals.
Here are a few of the recipes that are included in the cookbook:
Sweet Potato Pizza
Kaleidoscope Salad
Spiralized Fruit Tarts
Creamy Alfredo Vegetable Pasta

150 Best Spiralizer Recipes

by Marilyn Haugen and Jennifer Williams
isbn 978-0778805229
Pub. date 7/30/15
Description: "Spiralizers are taking home kitchens by storm. They are a fun way to introduce more vegetables, especially to finicky eaters, and reduce carbohydrates. One of the simplest options is substituting typical wheat pastas in a dish with zucchini noodles. Quick, healthy and easy to make and so satisfying! 150 Best Spiralizer Recipes has many more delicious and creative dishes to explore, including updated versions of classic favorites. There are recipes for vegetarians, gluten-free diets and low carbohydrate diets but also a wide variety of dishes for meat, poultry and fish lovers."
CONNECT – You can like Robert Rose Books on Facebook and follow them on Twitter
Enter daily through the Rafflecopter form below: