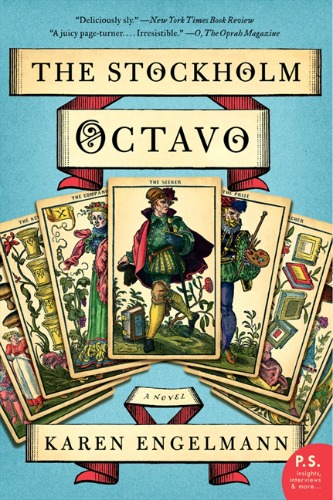 Last fall when I read The Stockholm Octavo, I knew it was headed for good things. The hardcover did well and Karen Engelmann's book is now being released in paperback.
There is intrigue, mysticism, history and scandal. It's a beautiful combination that has appeal for fans of a variety of genres.
Karen Engelmann has practical knowledge and life experiences that have helped her craft a fictional tale that feels realistic. She received a Masters of Fine Arts in the US and then lived and worked in Sweden for 8 years after completing her education.
The story is compelling. I found it hard to put the book down! This would be a great choice for a book club to read.
The Stockholm Octavo

A Novel
by Karen Engelmann
isbn 978-0061995354
Pub. date 8/6/13
Description: "Life is close to perfect for Emil Larsson, a self-satisfied bureaucrat in the Office of Customs and Excise in 1791 Stockholm. He is a true man of the Town—a drinker, card player, and contented bachelor—until one evening when Mrs. Sofia Sparrow, a fortune-teller and proprietor of an exclusive gaming parlor, shares with him a vision she has had: a golden path that will lead him to love and connection. She lays an Octavo for him, a spread of eight cards that augur the eight individuals who can help him realize this vision—if he can find them."
CONNECT – You can follow HarperBooks on Twitter.
Enter daily through the Rafflecopter form below: