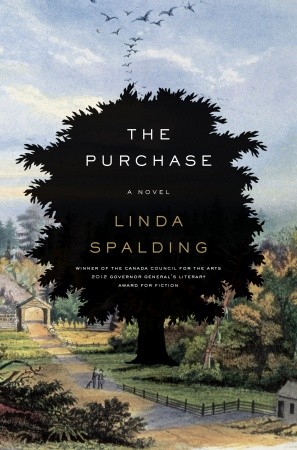 Historical fiction brings history to life in ways that history text books can't. This novel is fiction, but details help us understand what those things we memorized for multiple choice tests meant for the people who lived during that time period.
Linda Spalding writes both fiction and non-fiction. The Purchase was awarded Canada's Governor General's Award for English-language fiction. I suspect that it will do well in the US, also.
The Purchase begins in the late 1700's. We get a personal glimpse into how religion, community, family and personal convictions play into the decisions that are made.
The Purchase

A Novel
by Linda Spalding
isbn 978-0-307-90841-4
Pub. date 8/6/13
Description: "In 1798, Daniel Dickinson, recently widowed and shunned by his fellow Quakers when he marries his young servant girl to help with his five small children, moves his shaken family down the Wilderness Road to the Virginia/Kentucky border. Although determined to hold on to his Quaker ways, and despite his most dearly held belief that slavery is a sin, Daniel becomes the owner of a young boy named Onesimus, setting in motion a twisted chain of events that will lead to tragedy and murder, forever changing his children's lives and driving the book to an unexpected conclusion."
Our society has changed quite a bit in the last few centuries, but there are still similarities. We can always learn from where we have been and where we are headed.
The novel is a great choice for those of us who enjoy historical fiction!
Enter daily through the Rafflecopter form below: