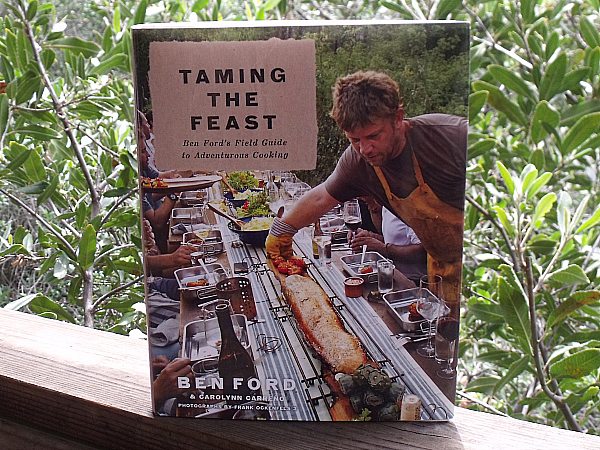 Cook big
Play with fire
Get your hands dirty
These three phrases perfectly sum up Ben Ford's views on cooking and enjoying food with friends and family. He goes big to create a memorable experience for all.
Ben Ford is the executive chef and owner of Ford's Filling Station, a gastropub in Culver City, California. The restaurant has a comfortable atmosphere where diners can enjoy high quality seasonal food and the company of those that they are dining with. He is also the son of Harrison Ford.
Taming the Feast has recipes, instructions and tips to help you serve a crowd, whether it's a large family gathering, a block party or other special event. He can help you have fun creating a memorable meal that can fill bellies and warm souls. These are the types of meals that people will still be talking about long after they are over.
Personally, I don't plan on building a large roaster for a whole pig, but some of you may. I will, however, be happy to try out many of his other dishes. His focus on combining fresh ingredients in interesting ways is exactly how I like to cook.
Taming the Feast is a beautiful and practical cookbook that will appeal to those of us who enjoy cooking regularly and those who enjoy having fun with the backyard BBQ on the weekends.
Taming the Feast

Ben Ford's Field Guide to Adventurous Cooking
by Ben Ford
isbn 978-1476706399
Pub. date 5/6/14
Description: "Chef Ben Ford is known for wowing crowds with his handcrafted feasts of enormous proportions—a whole pig roast, paella for eighty, burgers for the block. Now, in Taming the Feast, his complete guide to outdoor grilling, smoking, and roasting, Ford divulges his secrets for nine jaw-dropping feasts for the adventurous home cook and DIY enthusiast."
Enter daily through the Rafflecopter form below: