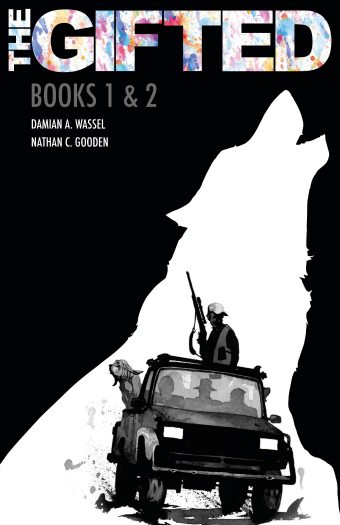 The Gifted is a beautiful and tragic post-apocalyptic fantasy.
Words aren't necessary in this graphic novel. The images alone convey the message clearly. There are some words that convey emotion and action (chomp, grr, wimper, howl, snap…), but it's the images that tell the story. Those limited words accentuate what we've learned from the images.
The Gifted is actually two books in one. The first is Hunger and the second is Hunted. They fit together, but it makes sense to have them separated.
This book is recommended for ages 7 and up. I'm sure many kids would enjoy it, but would recommend it most for teens and adults who will have a greater understanding of the story and the environmental and societal issues it brings up.
This is the kind of book that can be 'read' multiple times with new meaning being discovered and noticed each time.
The Gifted: Books 1 & 2

by Damian Wassel and Nathan Gooden
isbn 978-1-93942412-9
Pub. date December 2014
Description: "A lone wolf, starved and broken, hunts for food amid Earth's barren landscape. Drawn to an industrial plant at the fringe of a city, the wolf discovers a chance. But humans protect what they believe they own. Wounded and dying, the wolf seeks shelter. What he finds, however, proves far more powerful: the gift of consciousness. Discovering that he is not alone, the wolf leads his fellow animals in a violent uprising against humanity, fighting to bring color back to the world."
SOCIAL MEDIA – You can connect with Creative Mind Energy on Facebook and Twitter.
Enter daily through the Rafflecopter giveaway form below: