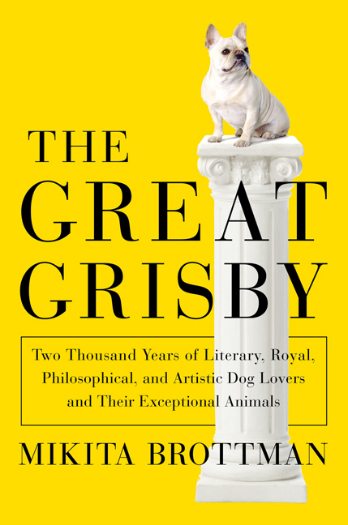 Are you a dog lover? This book is for you! If you are a cat person like me, you'll also find it fascinating and entertaining.
In The Great Grisby, Dr. Mikita Brottman takes a deep look at dogs and our relationships to them throughout the centuries. She is a professor and a psychoanalyst who has used her loving relationship with her dog as a catalyst to research and analysis.
There are 26 chapters with titles in order from A to Z. Each one features the dog of a famous person in history – authors, artists, philosophers, royalty… We get to learn about the bond that was formed between man and canine.
The book was a lot of fun to read. I've always loved pets and really enjoyed the historical and analytical aspects of the book.

The Great Grisby

Two Thousand Years of Literary, Royal, Philosophical, and Artistic Dog Lovers and Their Exceptional Animals
by Mikita Brottman
isbn 978-0062304612
Pub. date 10/7/14
Description: "A scholar, psychoanalyst, and cultural critic explores the multifaceted role dogs play in our world in this charming bestiary of dogs from literature, lore, and life. While gradually unveiling her eight-year love affair with her French bulldog, Grisby, Mikita Brottman ruminates on the singular bond between dogs and humans. Why do prevailing attitudes warn us against loving our pet "too much"? Is her relationship with Grisby nourishing or dysfunctional, commonplace or unique? Challenging the assumption that there's something repressed and neurotic about those deeply connected to a dog, she turns her keen eye on the many ways in which dog is the mirror of man."
Enter daily through the Rafflecopter form below: