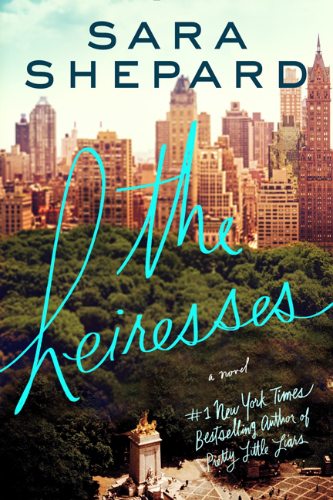 Are you a Pretty Little Liars fan? I am. I was surprised when this mysterious high school drama sucked me in from the very first episode, since I am a few decades beyond the high school scene. It was the story that caught my attention and kept be watching episode after episode.
The TV series is based on the Pretty Little Liars novel by Sara Shepard. She has now authored a new book that is also filled with intrigue, plot twists and interesting female lead characters. The characters and setting are different than her first novel, but her ability to craft and tell a complex and mysterious story remains.
I thoroughly enjoyed The Heiresses. It's smart, entertaining and will keep you guessing. I'm hoping that this one will end up as a movie or TV series so that I can get more of the story and quirky characters.

The Heiresses

A Novel
by Sara Shepard
isbn 978-0062259530
Pub. date 5/20/14
Description: "You know the Saybrooks. Everyone does. Perhaps you've read a profile of them inPeople or have seen their pictures in the society pages of Vogue. Perhaps while walking along that choice block on Fifth Avenue, you've been tempted to enter the ornate limestone building with their family name etched into the pediment above the door. The only thing more flawless than a Saybrook's diamond solitaire is the family behind the jewelry empire. Beauties, entrepreneurs, debutantes, and style mavens, they are the epitome of New York City's high society. But being a Saybrook comes at a price—they are heirs not only to a dizzying fortune but also to a decades-old family curse."
Enter daily through the Rafflecopter form below: