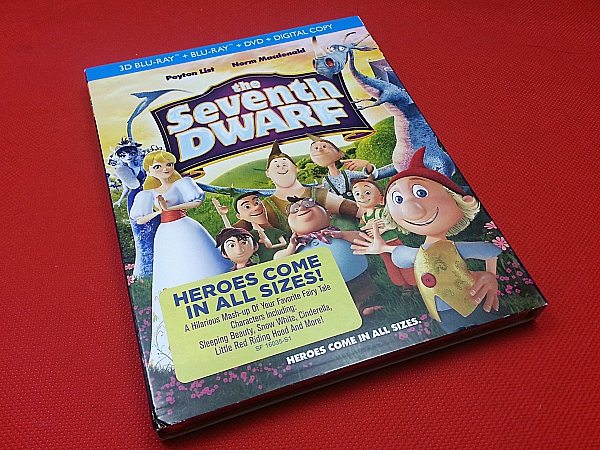 Do you and your kids like fairy tales?
The Seventh Dwarf is a fun new take on traditional fairy tales. It's a mashup of familiar characters and themes that somehow manages to come across as fresh and new. It isn't just a remake of old stories. They have created a whole new and magical adventure.
The combination pack includes 3D Blu-ray, blu-ray, DVD and a digital copy. In addition to the feature movie, you'll get character profiles, sing alongs and a royal birthday invitation that you can download and print.
The movie is rated PG. I didn't notice anything alarming and would guess that most of you would be fine with having your little children watch. The movie is for kids, but we adults can enjoy it, too!
The Seventh Dwarf is a fun movie to watch again and again.
The Seventh Dwarf

Shout! Factory
Rated PG
Release date 8/1815
Synopsis: "It's the eve of Princess Rose's 18th birthday. Everyone in the kingdom has come to the castle to celebrate including Snow White, the Seven Dwarfs, Cinderella and Red Riding Hood. But just before the stroke of midnight, Bobo, the youngest dwarf, accidentally pricks the finger of Princess Rose (a.k.a. Sleeping Beauty) with a cursed needle and sends the kingdom into a century-long slumber! To find Rose's true love, Jack, to save her with a kiss, Bobo and the other six dwarfs must go on a treacherous journey, face a fiery dragon and outwit the jealous, scheming and evil witch, Dellamorta! This hilarious mash-up of the best classic fairy tales for young and old alike, features a winged dragon, a brave little dwarf, non-stop laughs and toe-tapping songs!"
SOCIAL MEDIA – You can connect with Shout Factory! on Facebook and Twitter.
Enter daily through the Rafflecopter giveaway form below: