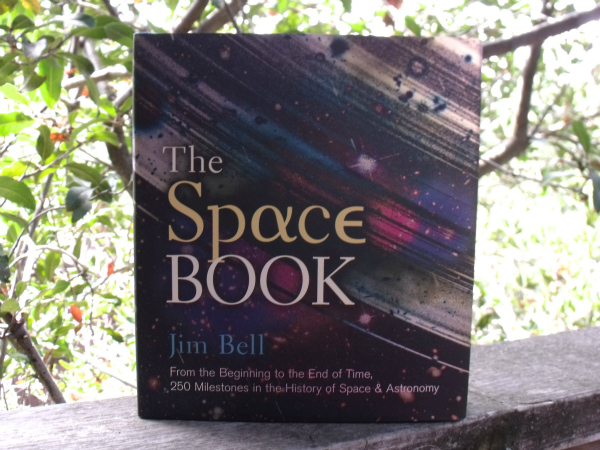 This fantastic book would make a great graduation or Father's Day gift! I know my scientist Dad would have enjoyed reading it and it's also a good book for my science-minded college student sons.
Jim Bell is passionate about astronomy. His enthusiasm is contagious. The Space Book is an exciting look at history, space and astronomy. He also teaches at Arizona State and Cornell Universities. He has been seen on TV (Discovery, National Geographic, NBC, CNN and PBS) and his articles can be read online and in print publications including Scientific American.
The Space Book

From the Beginning to the End of Time, 250 Milestones in the History of Space & Astronomy
by Jim Bell
isbn 978-1402780714
Pub. date 5/7/13
The hardcover book is 528 pages long and filled with stunning images. Adults and older kids will enjoy reading about each of these space milestones. Even little kids will have fun looking at the photos and learning about space.
As I read about these scientific discoveries, I am amazed at both how much we now know about space and how much more there still is to discover.
We can take a look at the beginning, the recent past, the present and what the future may hold for all of us who reside on the planet earth.
The Space Book is fabulous for people with a casual interest in astronomy and serious scientists. Jim Bell has done an excellent job celebrating space itself and the people, inventions and discoveries that have helped us learn more about all that surrounds us.
CONNECT – You can follow Sterling Books on Twitter.
Enter daily through the Rafflecopter form below: