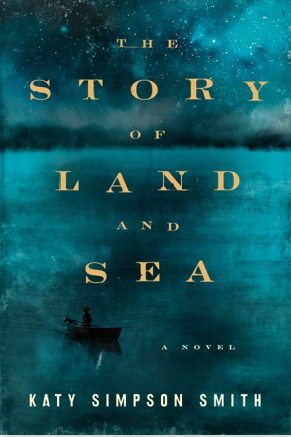 The Story of Land and Sea will take you on a journey back in history and into the hearts and minds of others. The fascinating novel drew me in quickly.
The novel takes us back to the time period around the Revolutionary War with the personal stories of a father and daughter, master and slave and a slave and her son.
The author helps us understand the harsh realities of living in that era that are very different than today. And we get to understand the depth of love that these characters experienced. The story and descriptive language make it easy for the reader to feel these emotions right along with the fictional characters. Yes, I was moved to tears more than once while reading.
This is the debut novel for Katy Simpson Smith. I do hope that we will be hearing more from her!

The Story of Land and Sea

A Novel
by Katy Simpson Smith
isbn 978-0062335944
Pub. date 8/26/14
Description: "Drawn to the ocean, ten-year-old Tabitha wanders the marshes of her small coastal village and listens to her father's stories about his pirate voyages and the mother she never knew. Since the loss of his wife Helen, John has remained land-bound for their daughter, but when Tab contracts yellow fever, he turns to the sea once more. Desperate to save his daughter, he takes her aboard a sloop bound for Bermuda, hoping the salt air will heal her. Years before, Helen herself was raised by a widowed father. Asa, the devout owner of a small plantation, gives his daughter a young slave named Moll for her tenth birthday. Left largely on their own, Helen and Moll develop a close but uneasy companionship. Helen gradually takes over the running of the plantation as the girls grow up, but when she meets John, the pirate turned Continental soldier, she flouts convention and her father's wishes by falling in love. Moll, meanwhile, is forced into marriage with a stranger. Her only solace is her son, Davy, whom she will protect with a passion that defies the bounds of slavery."
Enter daily through the Rafflecopter form below: