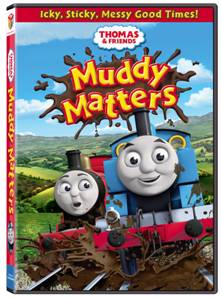 Thomas & Friends
Muddy Matters DVD
Release date 1/15/13
Synopsis: Through mud, garbage and muck, Thomas and his engine friends show that being Really Useful can be a dirty job! See James turn into the Really Muddy Engine and Thomas get showered with garbage. Watch Peter Sam make a big mess trying to keep things on track as Thomas creates chaos with the crows and much, much more. Join Thomas and the Steam Team as they make the best of the mess in these exciting muddy and mucky adventures!
Hooray for Thomas and hooray for mud!
Yes, I'm one of those moms who thinks that mud and dirt are an important (and fun!) part of growing up. Muddy Matters will appeal to kids who enjoy muddy messes and kids who understand the need to clean up messes.
Thomas & Friends Muddy Matters is perfect for kids ages 2-5. It is both educational and entertaining. The DVD includes 5 episodes and fun and interactive bonuses.
Muddy Matters
Thomas and the Garbage Train
Don't Bother Victor
Whiff's Wish
Thomas Toot's the Crows
Bonus: Go Go Thomas! Karaoke Music Video
Bonus: Guess Who? Puzzles
Bonus: Muddy Sheep Roundup Game
Digital Bonus: Buzzy Bees
The characters are sweet and learn good life lessons right along with your kids. Friendship and cooperation are two of the main themes for this DVD. The lessons are especially good for this age group when kids are developing interpersonal skills that can help or hurt relationships. Thomas can help make it fun!
Thomas & Friends Muddy Matters is a great addition to your little one's DVD collection!
CONNECT – You can like Thomas & Friends on Facebook.
Enter daily through the Rafflecopter form below: