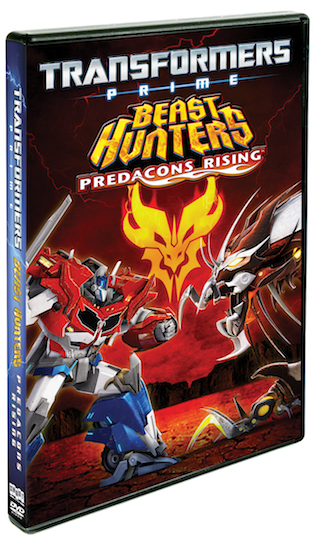 Let Transformers fans rejoice! The new Transformers Prime Beast Hunters DVD, Predacons Rising, is being released on October 8th. The trailer is available for viewing now.
Transformers have been around for decades and Transformers Prime began in 2010. The series aired on the HUB Network until this year. The series feels fresh and new, but has plenty of references to tie it in with the classic Transformers that started this wonderful trend.
Predacons Rising is a feature length movie that begins where the series ended. Diehard fans will appreciate how well it flows with the story they already know. New viewers can enjoy the movie as is, but just may get hooked and feel the need to go back and watch the entire series.
The movie is full of action that will keep you on the edge of your seat. It's fun to watch episodes on TV, but I prefer a long movie without commercials to interrupt.
Transformers Prime
Beast Hunters Predacons Rising

Shout! Factory
Release date 10/8/13
Synopsis: "A resurrected UNICRON has taken over the now-lifeless body of MEGATRON to seek vengeance on the AUTOBOTS and ultimately, the destruction of Cybertron. This formidable enemy forces an unlikely alliance between the AUTOBOTS, DECEPTICONS, PREDAKING and two new PREDACONS, who come together in an epic battle to help protect their newly restored planet."
CONNECT – You can like Shout Factory on Facebook and follow them on Twitter.
Enter daily through the Rafflecopter form below: