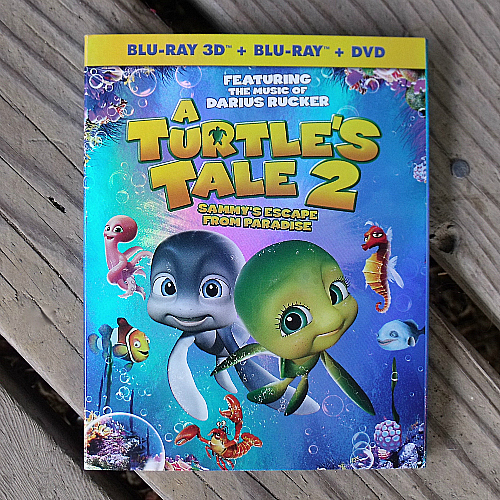 Sammy's Escape from Paradise is a wonderful treat!
The story is heart warming and the visuals are just amazing. I know it's animated, but it's beautiful. I don't have the equipment to watch the Blu-ray 3D disc, but even on DVD or standard blu-ray this is an underwater wonderland. I can only imagine how stunning it is in 3D.
The theme is similar to the original A Turtle's Tale: Sammy's Adventures, but the story is different. Kids will learn the importance of taking care of the earth and being environmentally and ecologically responsible. There is also a strong emphasis on extended family relationships. I was happy to see the special bonds between grandparents and grandchildren.
The fun adventure has a story that older kids and even adults can enjoy. The beautiful animation and accompanying music will enthrall little ones who may be too young to understand the words or plot.
A Turtle's Tale 2

Sammy's Escape from Paradise
Blu-ray 3D + Blu-ray + DVD
Release date 7/9/13
Synopsis: "When Sammy & Ray find themselves trapped in The Tank, an underwater aquarium, they must to hatch a plan to escape past Big D and his dopey friends to reunite with their grandkids Ricky & Ella. With the help of some unlikely friends, Sammy & Ray find that when you work together, anything is possible!"
Enter daily through the Rafflecopter form below: