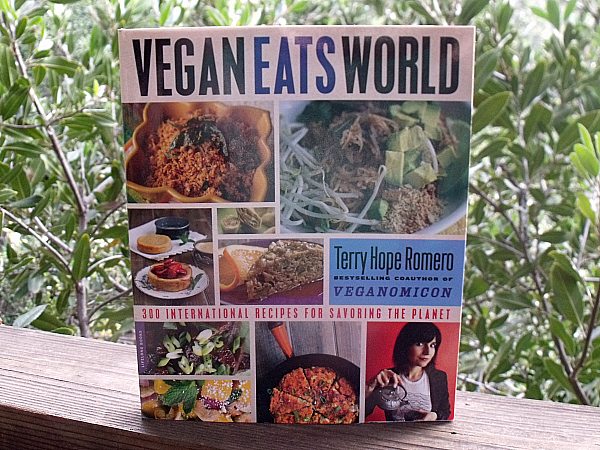 Vegan recipes from around the world? Yes, please!
Food most definitely does not need to be boring or bland without meat. In fact, it can be so good that even meat eaters will enjoy these dishes without feeling like something is missing.
Terry Hope Romero has put together a well-rounded collection of 300 international plant based recipes. You may be familiar with the previous books that she co-authored Veganomicon, Vegan Cupcakes Take Over the World and Vegan Cookies Invade Your Cookie Jar. She is passionate about eating well and taking care of our earth and the creatures who live here.
The book starts out with basics about vegan cooking and then dives right into the recipes that are based on cuisines from all around the world. You'll be able to create balanced meals with plenty of protein and lots of good, whole food nutrition.
The recipes are coded to help you find ones that will meet your needs – gluten-free, budget friendly, lower fat, soy free …. Many are marked as being great for beginners. Some are quick and easy while others are meant to simmer slowly. There is plenty to choose from.
Vegan Eats World is an excellent resource. With this many recipes available, you'll have fun 'traveling' all around the world at your dinner table!
Vegan Eats World

300 International Recipes for Savoring the Planet
by Terry Hope Romero
isbn 978-0738217444
Pub. date 4/8/14
Description: "What If the World Was Vegan? The true building blocks of cuisines across the planet are the spices, herbs, and grains—from basmati rice to buckwheat, coconut to caraway seeds. Apply those flavors to vegan staples such as seitan, or tofu and even straight-up vegetables, and the possibilities? If not endless, pretty darned expansive. So what if the world was vegan? "
Enter daily through the Rafflecopter form below: