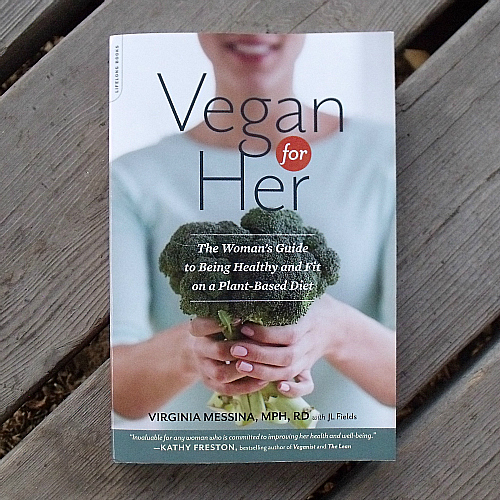 Vegan for Her is a fantastic reference book for vegans, vegetarians and any woman who is concerned about her health! Even if you aren't ready to make a complete change, little steps of eating more plant based foods can have a positive impact.
I'm a vegetarian who leans vegan and am guessing that I will be completely vegan before too long. I was raised a meat-eater and gradually shifted away from meat and towards a plant based diet. One day I realized I had become a vegetarian when I couldn't even remember the last time I had meat. I haven't had any desire for it since. My family still eats meat, but this was absolutely the right decision for me and my body appreciates the shift.
The authors of this book understand the health benefits of a plant based diet and clearly explain the science behind it. A vegan diet doesn't just mean skipping the meat and animal products. It means eating nutritious plant based foods in the proper balance. Vegans still need protein and if you didn't grow up eating this way, you'll want to pay attention to your food intake so that your body gets what it needs.
Vegan for Her

The Women's Guide to Being Healthy and Fit on a Plant-Based Diet
by Virginia Messina with JL Fields
isbn 978-0738216713
Pub. date 7/9/13
Description: "Vegan for Her, a blueprint for optimal health and wellness at any age, will show you how to: lower your risk for breast cancer and heart disease; manage conditions like arthritis and migraines; diminish PMs and cramps; build strong bones for life; enhance fertility; make an easy transition to a vegan diet; and incorporate principles of both fashion and compassion into your home and wardrobe"
The book includes some delicious looking recipes. Here are a few that I've marked to try:
Cinnamon Tofu

Chickpea Salad Sandwich
Creamy Squash and Apple Soup
Cucumber and Quinoa Salad
CONNECT – You can like Vegan for Her on Facebook and follow them on Twitter.
Enter daily through the Rafflecopter form below: