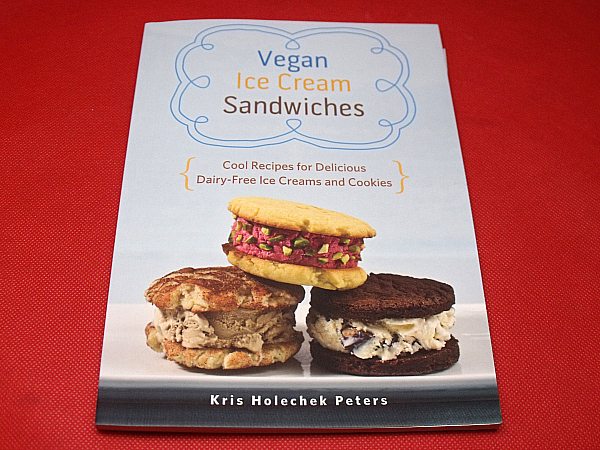 Vegan Ice Cream Sandwiches.
While that may sound like an oxymoron, it is possible and can be very delicious. All of the recipes in this book are vegan. That means no dairy or eggs in the ice cream or the cookies. Even non-vegans can enjoy these wonderful treats.
The recipe book includes 30 cookie recipes and 30 ice cream recipes. Instructions are clear and it would be easy to customize them for any further dietary restrictions or preferences. For the ice cream, you can use soy milk, hemp milk or another non-dairy alternative.
Here are a few of the cookie and ice cream pairs that look good to me:
Carrot Cake Cookies with Ginger Nut Ice Cream

Chocolate Chip Cookies with Very Vanilla Soy Ice Cream
Chewy Chocolate Cookies with Mint Nut Ice Cream
Tiramisu Sandwiches
Vegan Ice Cream Sandwiches

Cool Recipes for Delicious Dairy-Free Ice Creams and Cookies
by Kris Holechek Peters
isbn 978-1612432984
Pub. date 5/27/14
Description: "A far cry from those little frozen bricks of mealy cookie and flavorless ice cream, gourmet ice cream sandwiches are now a staple of artisan bakeries and upscale scoop shops everywhere. Vegan Ice Cream Sandwiches opens the wide world of exciting ice cream and cookie combinations to vegans, with dozens of dairy- and egg-free recipes for cookies, ice creams, custards, and sorbets."
Enter daily through the Rafflecopter form below: