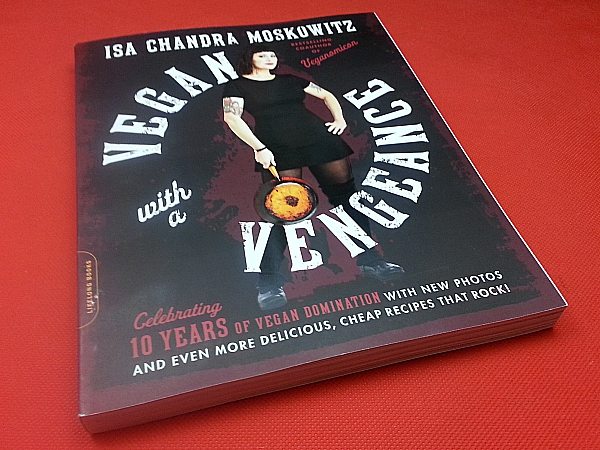 Are you a vegan or do you eat vegan, animal-free foods on meatless Monday or at other times? Have you considered a plant based diet?
Isa Chandra Moskowitz has been making vegan meals fun and delicious for over a decade!
Vegan with a Vengeance is a collection of more than 150 recipes that anyone can enjoy, even those of you who are not ready to join in the fight against animal cruelty with PETA.
Eating one meal or every meal vegan doesn't have to be time consuming, flavorless, unsatisfying or expensive. Isa Chandra knows how to make simple, cheap meals that taste great without costing a lot of money.
Vegan with a Vengeance

10th Anniversary Edition
Over 150 Delicious, Cheap, Animal-Free Recipes That Rock
by Isa Chandra Moskowitz
isbn 978-0738218335
Pub. date 5/26/15
Description: "Ten years ago a young Brooklyn chef was making a name for herself by dishing up amazing vegan meals—no fuss, no b.s., just easy, cheap, delicious food. Several books later, the punk rock priestess of all things tasty and animal-free returns to her roots—and we're not just talking tubers. The book that started it all is back, with new recipes, ways to make those awesome favorites even awesomer, more in-the-kitchen tips with Fizzle—and full-color photos of those amazing dishes throughout."
Here are a few of the recipes on my to do list:
Sweet Potato Hash
The Best Pumpkin Muffins
Chick Pea Broccoli Casserole
Green Goddess Garlic Pizza
Deluxe Cocoa Brownies
Enter daily through the Rafflecopter giveaway form below: