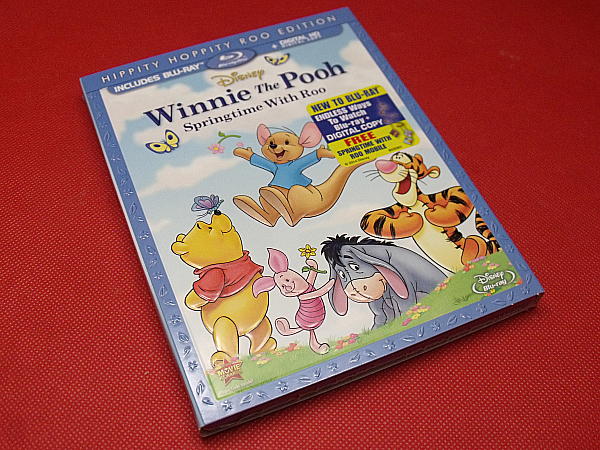 Winnie the Pooh has always been a favorite of mine. When I was a kid I enjoyed all of the Disney characters, but Pooh held a special place in my heart. I still have my favorite stuffed Pooh Bear that I got on a childhood trip to Disneyland.
Winnie the Pooh: Springtime with Roo is being released on Blu-ray and DVD just in time for Spring and Easter. This is a beautifully told story that is entertaining and has a good message.
The movie is a clever adaptation of the Charles Dickens classic A Christmas Carol, but it features our favorite characters from the Hundred Acre Woods and it's Easter instead of Christmas. Bossy Rabbit is a good fit for the Scrooge character.
The storytelling style reminds me of the older Winnie the Pooh films from when I was a child. The story is complex enough that it will keep older kids watching from start to finish. The story is entertaining and thought provoking with Rabbit's exaggerated Scrooge character and the lessons he learns. The animation and music are a delight.
Winnie the Pooh:
Springtime With Roo Blu-ray

Walt Disney Home Entertainment
Rated G
Release date 3/11/14
Synopsis: "Each year, Rabbit plays Easter Bunny, but this year, he's decided it's "Spring Cleaning Day," and he orders everyone to hop to it: scrubbing, dusting, and mopping. All his pals are disappointed – especially little Roo – until Rabbit learns that putting others first and showing friends how much you care turns every day into a precious gift. Sparkling with unforgettable songs and a never-before-seen bonus treat, this delightful "egg-stravaganza" shows why love, hope and friendship are always in full bloom in the Hundred Acre Wood!"
Enter daily through the Rafflecopter form below: