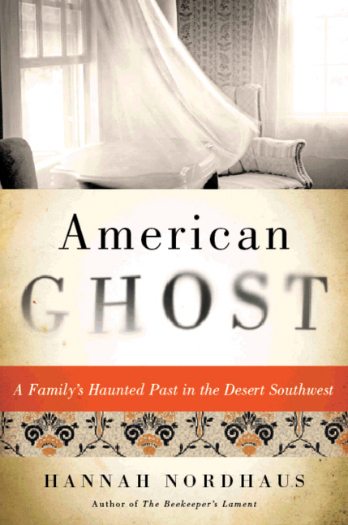 What was once a grand home in Santa Fe, New Mexico in the 19th Century has now become an elegant hotel… an elegant haunted hotel. It is said to be haunted by the former lady of the house, Julia Schuster Staab.
Julia is also the great great grandmother of journalist, Hannah Nordhaus, who took on the very interesting project of exploring the history and myth of her family's past.
American Ghost is fascinating. The book is a wonderful blend of family history, general history of immigrants and pioneers, a look at mental illness and the supernatural. It examines the blurred lines between history and myth. The book will appeal to those who enjoy both fiction and non-fiction.

American Ghost

A Family's Haunted Past in the Desert Southwest
by Hannah Nordhaus
isbn 978-0062249210
Pub. date 3/10/15
Description: "The dark-eyed woman in the long black gown was first seen in the 1970s, standing near a fireplace. She was sad and translucent, present and absent at once. Strange things began to happen in the Santa Fe hotel where she was seen. Gas fireplaces turned off and on without anyone touching a switch. Vases of flowers appeared in new locations. Glasses flew off shelves. And in one second-floor suite with a canopy bed and arched windows looking out to the mountains, guests reported alarming events: blankets ripped off while they slept, the room temperature plummeting, disembodied breathing, dancing balls of light."
SOCIAL MEDIA – You can connect with Harper Collins on Facebook and Twitter.
Enter daily through the Rafflecopter giveaway form below: