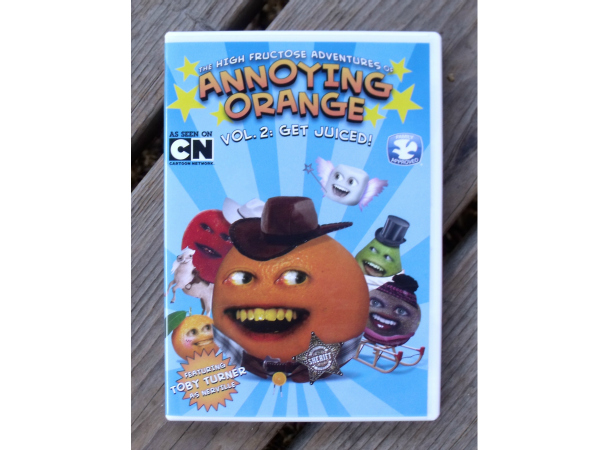 Have you heard of Annoying Orange? Have you ever experienced a High Fructose Adventure?
If you haven't, chances are good that your kids have. Annoying Orange started as a web series and has over a billion views on YouTube and over 2 million subscribers. The TV series can be seen on Cartoon Network and this is the second volume of the season 1 DVD set.
To be blunt, Annoying Orange is annoying on every level. He's rude, crass, obnoxious and looks creepy with his human mouth, teeth and eyes. He takes delight in the smashing, cutting and other destructive ends to the other characters.
This is exactly why kids (and many adults) like Annoying Orange!
The High Fructose Adventures of Annoying Orange

Season 1 Volume 2: Get Juiced
Release date 5/28/13
The Volume 2 DVD runs for approx. 110 minutes and includes 10 episodes that will make you laugh or cringe or both. And… if at first you merely cringe, after you've seen a few episodes, you will probably be laughing along at this ridiculous pop culture phenomenon.
The first volume was called Escape from The Kitchen and the episodes are very similar to the ones you'll find on Get Juiced.
Season 2 just premiered on Cartoon Network this week, but you can relive the fun of Season 1 on DVD again and again and again.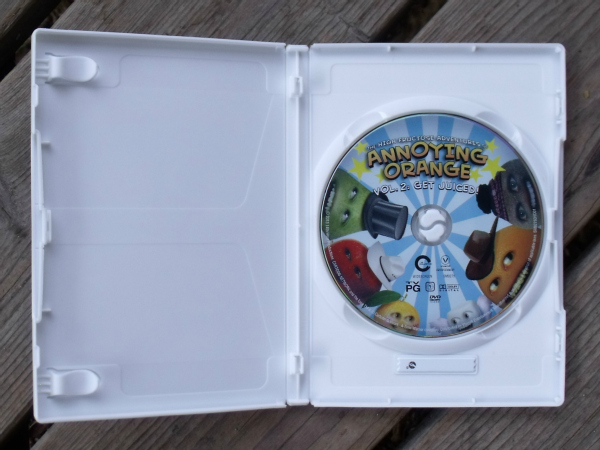 Enter daily through the Rafflecopter form below: