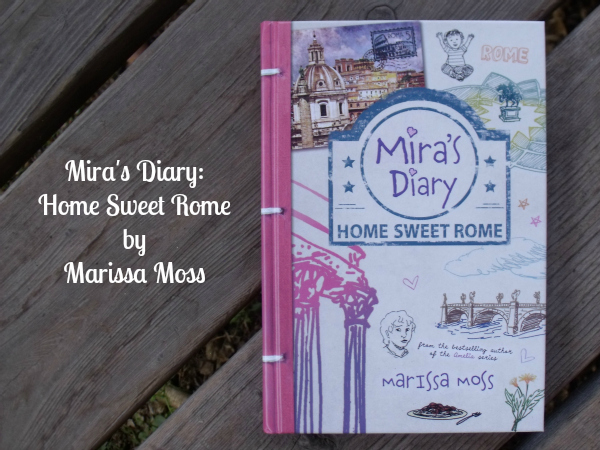 Mira's Diary is a fabulous and fun way to travel through time. Yes, this book involves time travel, history, mystery and adventures!
In Home Sweet Rome Marissa Moss takes us on a journey back to the 16th century with Mira, a modern day girl. Her previous book, Lost in Paris, was a similar adventure.
The book is imaginative and entertaining. Kids will also get a glimpse into what it was like to live in historical times. This is exactly the kind of book that I would have enjoyed as a child. It's written in a way that is fun for kids, but they'll actually pick up on some facts and get a feel for history while they're enjoying the story.
Mira's Diary is recommended for kids ages 9 and up. If you have a younger child who is ready for chapter books, it can work for them as well.
Mira's Diary: Home Sweet Rome

by Marissa Moss
isbn 978-1402266096
Pub. date 4/2/13
Synopsis: "As if traveling to a new country in search of her missing mother weren't difficult enough, Mira has to do it dressed as a boy. In a different century. A new postcard from her time-traveling mother points Mira to the 16th century Rome. But before she can rescue her mom, she must follow the clues left around the city to find Giordano Bruno, a famous thinker and mathematician, who discovered something so shocking that important Italian officials don't want it revealed. All the while avoiding the Watchers—time-traveling police who want Mira back in her own time. It's another whirlwind adventure for Mira, and this time she is determined to bring her mother out of the past."
Enter daily through the Rafflecopter form below: