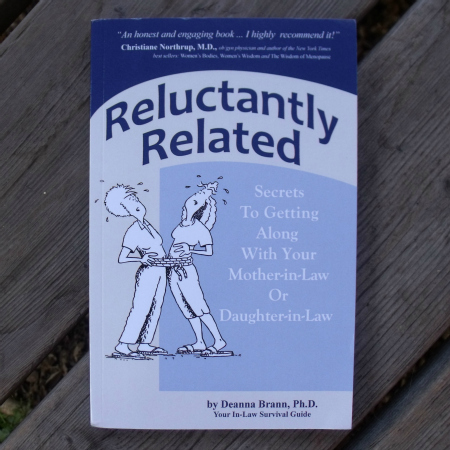 Ahh… the mother-in-law relationship can be a tricky one. It's easy to blame everything on the mother-in-law, but the truth is that it takes two to tango. Daughter-in-laws are certainly not guilt-free. By nature, this relationship is one that can be problematic unless you're willing to work at it.
Life is much better for all involved when these two key players are getting along.
Reluctantly Related

Secrets To Getting Along With Your Mother-in-Law or Daughter-in-law
by Deanna Brann PhD
isbn 978-0988810006
Pub. date 1/31/13
Dr. Brann is a licensed clinical psychotherapist. She also happens to be both a mother-in-law and a daughter-in-law. She understands this complicated relationship on a personal and professional level.
Mother-in-laws will learn how to:
Feel more at ease and comfortable around your daughter-in-law.

Change how your daughter-in-law perceives you.
Begin to feel like a family – maybe for the first time!
Daughter-in-laws will learn how to:
Get the respect you deserve from

your mother-in-law.

Feel more comfortable and at ease around her.
Create a relationship with her that works for you.
Often the relationship involves hurt feelings and confrontations. This can make the pain escalate instead of improving the situation. By changing your own behavior and how you look at things, the relationship can be great.
The book is practical and humorous and can help anyone turn a potentially stressful relationship into something very special.
Enter daily through the Rafflecopter form below: