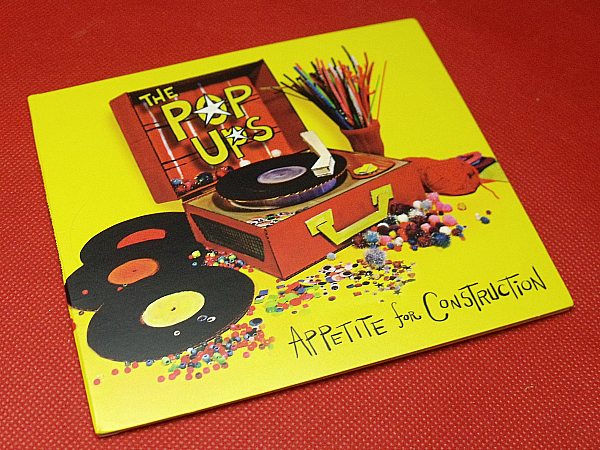 When I was a child, I had a red plastic record player much like the one on the cover of The Pop Ups latest CD, Appetite for Construction. I played my favorite records over and over again.
It really is exciting to see and hear the evolution of kindie rock. Kids do love good music that keeps up with the latest trends, but they also want it to have family friendly lyrics that are about topics that are relevant to them.
The Pop Ups are a pair of talented men who are skilled musicians and entertaining performers who know just what kids what to hear. One is a dad and the other is a teacher.
You may have seen them on TV on Sprout or live in concert. They have performed on their own and have been on tour with Yo Gabba Gabba. When performing, they bring puppets and other props into the show.
The music is great for pre-schoolers and school age kids. The music itself is fun and beautiful. The lyrics will inspire kids to be creative as they enjoy the world around them.
The Pop Ups
Appetite for Construction
Release date 8/19/14
There are 12 tracks on the CD:
Getting the Job Done

All These Shapes
Block House
Costume Party
Bug Out
Pictures Making Pictures
Craft Night
Your Own Imagination
Robot Dance
Puppet Playground
Glitter Everywhere
Go to Sleep
Enter daily through the Rafflecopter form below:
Sugar Mountain