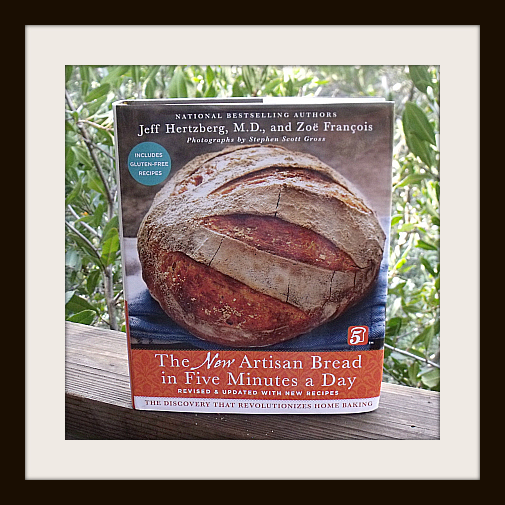 Doesn't that bread look amazing?
I was skeptical when I saw the title of this book. How can bread only take 5 minutes a day? I'm sure I could eat a loaf in 5 minutes, but didn't realized it could be made that quickly since the bread making process is typically labor intensive and time consuming.
Through much practice and experimentation, Jeff Hertzberg and Zoe Francois have simplified bread making that allows home bakers to save time and still end up with bread that tastes and looks great.
This is what they learned:
Bread dough can be made in advance and stored in the refrigerator.
Yeast does not need to be "proofed."
Kneading is not necessary.
Loaves don't need to rest & rise in a draft free area.
No need to worry about doubling or tripling.
Stored dough shouldn't be punched down to rise again.
By following the instructions in this beautiful book, you can bake fresh bread daily without spending all day in the kitchen. They've also got some great recipes and ideas for what to do with the bread after you've baked it.
The New Artisan Bread in Five Minutes a Day

The Discovery That Revolutionizes Home Baking
by Jeff Hertzberg and Zoe Francois
isbn 978-1250018281
Pub. date 10/22/13
Description: "With more than half a million copies of their books in print, Jeff Hertzberg and Zoë François have proven that people want to bake their own bread, so long as they can do it easily and quickly. Based on fan feedback, Jeff and Zoë have completely revamped their first, most popular, and now-classic book, Artisan Bread in Five Minutes a Day. Responding to their thousands of ardent fans, Jeff and Zoë returned to their test kitchens to whip up more delicious recipes. They've also included a gluten-free chapter, forty all-new gorgeous color photos, and one hundred informative black-and-white how-to photos. They've made the "Tips and Techniques" and "Ingredients" chapters bigger and better than ever before, and included readers' Frequently Asked Questions."
Enter daily through the Rafflecopter form below: