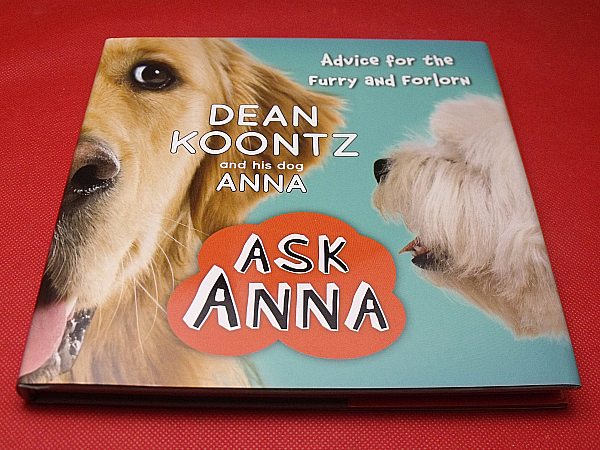 This is not your ordinary Dean Koontz novel!
I have read and enjoyed many suspenseful books by Dean Koontz over the years. The one that got me hooked on his writing was Watchers, which begins in a canyon near where I live in Orange County, California. Watchers and Ask Anna both feature an intelligent dog, but that is where the similarity ends.
Anna is an advice columnist who is happy to share her wisdom and humor. Dogs submit their questions to Anna and "she" answers them with style. The advice is for dogs, but can often be applied to humans as well.
Ask Anna is a fun book for pet lovers and would make a nice gift. The fact that it is so different from Koontz' other books, make me like it even more. It's good to see this other side of him.

Ask Anna

Advice for the Furry and Forlorn
by Dean Koontz
isbn 978-1455530793
Pub. date 10/7/14
Description: "With her superior intellect, sharp wit, a warm and fuzzy heart, Anna Koontz debuts her talent as an advice columnist in her seminal work ASK ANNA: ADVICE FOR THE FURRY AND FORLORN. Some of her best advice: take time daily for ball-chasing and belly rubs – the keys (along with sausages) to true canine joy. Learn more about the problems that plague Anna's clients and be inspired by how she counsels them. Also delight in Dean's just slightly skewed perspective on the importance of dogs throughout history. Without their advice, we humans would be in even worse trouble than we are today. They're heaven-sent (what is dog spelled backwards?!)"
Enter daily through the Rafflecopter form below: