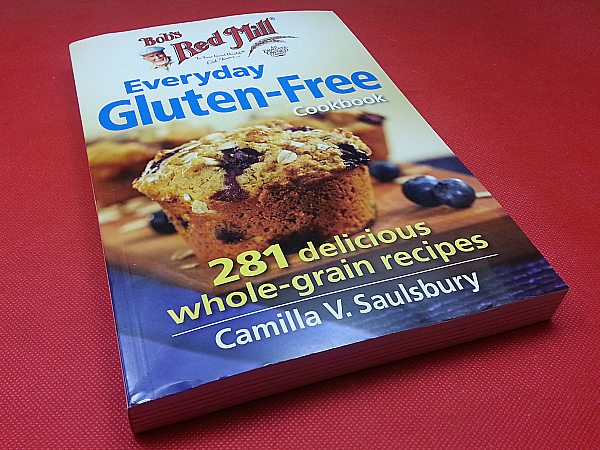 Do you have Bob's Red Mill products in your pantry? Currently, I have an assortment of different types of flour and oats. The selection may vary, but I always have bags with Bob's smiling face on them.
This is a company that has been 'doing it right' for decades. While other brands were cutting corners, adding fillers and reducing quality to maximize profits, Bob's Red Mill put the emphasis on using the best methods to create high quality, nutritious products. As such, they are excellent to use in baked goods and other recipes. You'll get the flavor, texture and nutrition you want.
The Everyday Gluten-Free Cookbook contains hundreds of whole grain recipes that use Bob's Red Mill products. The cookbook is great for those of you who have medical issues and must cut out gluten from your diet and for anyone else who wants to eat good tasting, healthy food.
As with all of the Robert Rose cookbooks, the recipes are very easy to follow. Measurements are included for those of us in the US and for the rest of you who use the metric system. In addition to the actual recipe, they include tips and ideas for variations to help even novice cooks and bakers have success in the kitchen.
Bob's Red Mill Everyday Gluten-Free Cookbook

by Camilla Saulsbury
isbn 978-0778805007
Pub. date 1/12/15
Description: "For over 30 thirty years, Bob's Red Mill has been committed to providing the very best in gluten- free flours, cereals, baking mixes and grains. They go to great lengths to ensure the integrity of their products — even building a separate gluten-free packaging division to make sure their products maintain their gluten-free purity. Camilla Saulsbury, an award-winning recipe developer and bestselling author, has created 281 recipes that showcase the health benefits of a gluten-free diet, with recipes that are immensely delicious and creative. And Camilla's recipes can be enjoyed throughout the day — from satisfying breakfasts to evening dinners. These sublime recipes are proof positive that good taste and gluten-free options are not mutually exclusive."
CONNECT – You can like Robert Rose Books on Facebook and follow them on Twitter
Enter daily through the Rafflecopter form below: