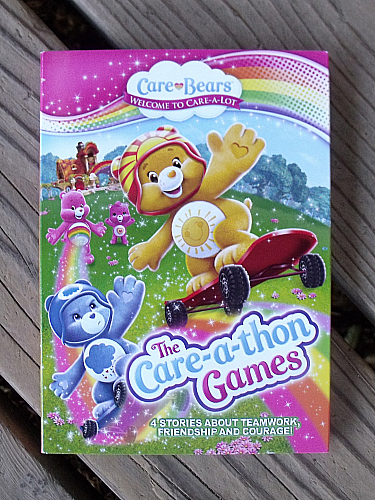 Are you and your kids ready for the Winter Olympics?
The Care Bears are having their own competitions on this fun-filled DVD. Of course, things are different in the land of Care-a-Lot, but the competitive spirit and some very good life lessons can be learned in the Care-a-thon Games. All of the episodes are sports themed.
The DVD includes four episodes that will teach kids about teamwork, friendship, courage and good sportsmanship.
Compassion-NOT!

Shunshine
Care Campout
Cheer Factor
The CGI series is currently airing on the HUB TV Network. It's always fun to get the DVDs, so that kids can watch (and learn from) their favorite episodes over and over again!
Care Bears
Care-A-Thon Games DVD

Release date 2/4/14
Synopsis: "Join the Care Bears Care-a-thon Games! After a surprise win at the Bearathon, Funshine Bear gets overly competitive with his friends, and Grumpy Bear and Cheer Bear pair up for the Belly Badge Treasure Hunt with disastrous results! Wonderheart Bear helps a friend find her courage during a loud Crackle Storm. And when Grumpy finds himself in a sticky situation, the bears pitch in to get him un-stuck! Get your game face on and join the Care Bears in these fun, sports-themed adventures from Care-a-lot."
Enter daily through the Rafflecopter form below: