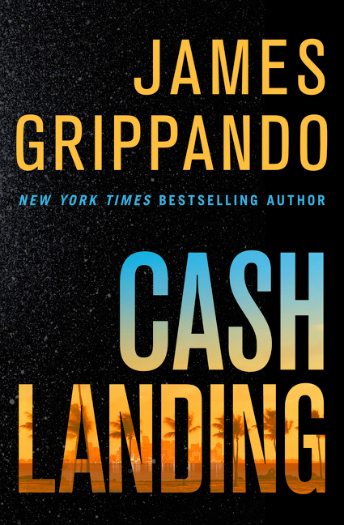 Hooray – it's another Jack Swyteck novel from James Grippando!
Like his other books, Cash Landing takes it's inspiration from actual, real life events. Then creativity and imagination take over. The books are fiction, but they feel as if they could be true. His background as a trial lawyer gives his novels a realistic edge.
The basics of Cash Landing may sound familiar to you. The event that inspired this book was the Miami airport heist that filled the news about a decade ago. The amateur thieves had the guts to pull of the job, but made some amateur mistakes afterwards.
Cash Landing is an entertaining and suspenseful read. The book will appeal to people who enjoy thrillers, mysteries and other fiction. Fans of true crime stories will enjoy it, too.
Cash Landing

A Novel
by James Grippando
isbn 978-0062295453
Pub. date 6/2/15
Description: "Ruban Betancourt has always played by the rules. But the bank taking his house and his restaurant business going bust has driven him over the edge. He and his wife deserve more than life has handed them, and he's come up with a ballsy scheme to get it. With the help of an airport insider, he, his coke-head brother-in-law, Jeffrey, and two ex-cons surprise the guards loading the armored trucks and speed off with $7.4 million in the bed of a pickup truck. Investigating the heist, FBI agent Andie Henning, newly transferred to Miami from Seattle, knows the best way to catch the thieves is to follow the money. Jeffrey's drug addiction is as conspicuous as the Rolex watches he buys for dancers at the Gold Rush strip club. One of the ex-cons, Pinky Perez, makes no secret of his plan to own a swinger's club—which will allow him carte blanche with his patrons' wives. Levelheaded Ruban is desperately trying to lay low and hold things together"
SOCIAL MEDIA – You can connect with Harper Collins on Facebook and Twitter.
Enter daily through the Rafflecopter giveaway form below: