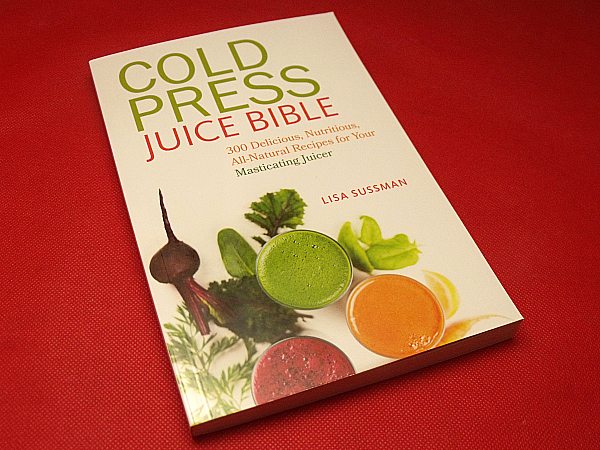 Have you embraced the juice trend? Whether you go all out with a juice cleanse or juice daily or occasionally, this is a great way to get a healthy burst of nutrition to provide good, clean fuel for your body.
I go out for juice periodically, but prefer to make my own custom blends at home. There are a lot of efficient masticating juicers available that make it easy to have fresh juice anytime you'd like.
The Cold Press Juice Bible is a handy reference tool for experienced juicers and first timers. You'll learn basics about nutrition and how to select the best ingredients for you. There are some great tips for setting up your home juice bar.
Of course, there are also recipes – 300 of them! There really is something for everyone and most have options listed to help you customize the juices to be green, milky, rooty or fruity. You'll find recipes for basic beverages and for ones that can be enjoyed as a meal.
Even if you've never read a cookbook or followed a recipe before, this book is easy to use. The recipes are simple and there is plenty of room for substitutions based on your own taste or what is in season or currently available in your kitchen.

Cold Press Juice Bible

300 Delicious, Nutritious, All-Natural Recipes for Your Masticating Juicer
by Lisa Sussman
isbn 978-1612433936
Pub. date 10/28/14
Description: "Thanks to the masticating juicer, which crushes fruits and vegetables into a smooth juice without destroying vital nutrients the way heat-producing centrifugal juicers do, the health benefits of drinking homemade juices has reached incredible new heights. By juicing at home, consumers can choose exactly which ingredients to put into their bodies, skipping processed sugars and artificial ingredients in favor of organic fruits and seasonal vegetables that are chock-full of minerals, vitamins, and life-saving antioxidants. Cold Press Juice Bible explains how to maximize health benefits while balancing the complex flavors these machines are capable of extracting."
Enter daily through the Rafflecopter form below: