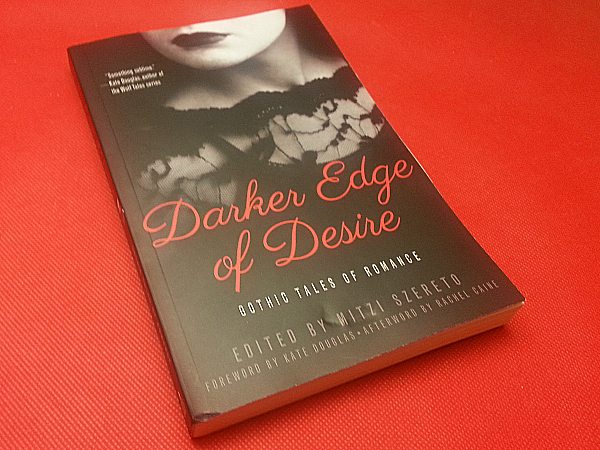 Does the title of this book sound intriguing to you?
Darker Edge of Desire is not for everyone, but for those of you who like the sound of the title and description this is an excellent book!
Mitzi Szereto has put together a collection of 14 stories. She wrote one of them and the others are by different authors. They don't take long to read, but each one is intense. You'll find romance, fantasy and horror featuring humans, vampires, werewolves, ghosts, shape shifters and other creatures. The writing is fabulous!
This would make a great Valentine's Day gift for your honey or a friend.
Darker Edge of Desire

Gothic Tales of Romance
by Mitzi Szereto
isbn 978-1940550008
Pub. date 12/2/14
Description: "Gothic literature has always possessed a dark attraction ripe with the promise of the forbidden and the sensual. In Darker Edge of Desire, Mitzi Szereto has brought together out-of-this-world romance and fantasy writers who let passion drive the heartbeat of their paranormal tales—from a woodland populated with howling coyotes, to a mysterious underworld filled with steam and fire, and a castle made from rose-colored glass. Venturing even further into the world of supernatural romance than she did in the critically acclaimed Red Velvet and Absinthe, Szereto conjures an atmosphere filled with the distinct Gothic flavors of thrilling danger and exquisite eroticism."
Stories include:
The Wicked Wife by T.C. Mill
Red House by Zander Vyne
Sister Bessie's Boys by Gary Earl Ross
Reynold's Tale by Adrian Ludens
The Dracula Club by Mitzi Szereto
Moonfall by Rose de Fer
Lightning in A Bottle by Kim Knox
The Wildest Spirit by Sacchi Green
Blood Soup by Benji Bright
The Alchemist's Daughter by Rosalia Zizzo
The Hollow in The Black Cliffs by Madeline Swann
Devoured by Envy by Jo Wu
The Hardest Kiss by Cairde Glass
Zapada Alba by Tracey Lander-Garrett
Enter daily through the Rafflecopter giveaway form below: