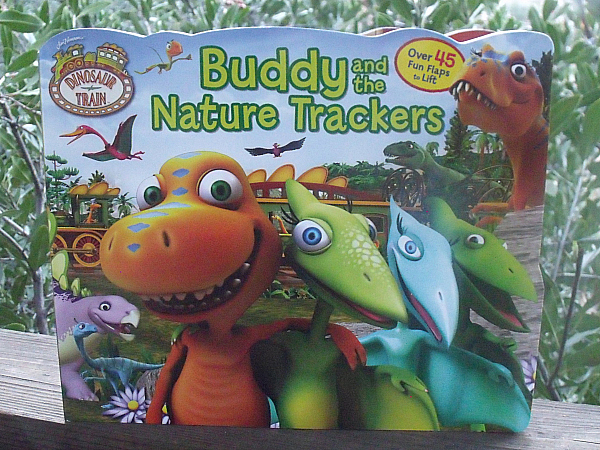 Let Dinosaur Train fans rejoice!
There's an all new season of this fun series from the Jim Henson Company beginning on January 20th. Kids can watch their favorite characters in all new adventures on PBS KIDS. The season starts with a one hour special called "Nature Trackers Adventure Camp."
Preschoolers can also enjoy this fun board book from Reader's Digest Children's Books. This isn't your ordinary board book. It's large (about 9″ x 11″) and is also a lift-the-flap book.
Throughout the 10 page book are 45 flaps covering little Dinosaur Train surprises. Kids can enjoy the story and will have fun with the challenge questions that will encourage them to learn as they lift the flaps to discover new things about opposites, colors, counting, matching and action words.
The story is imaginative and educational. The colorful illustrations are cute and true to the television show.
Dinosaur Train
Buddy and the Nature Trackers

Lift the Flap Book
isbn 978-0794424695
Pub. date 1/3/12
Synopsis: "The Nature Trackers are always on the lookout for interesting things to discover all around them. Kids will love tagging along for adventures as Buddy, Tiny, Don, and Shiny check out a cave filled with colorful gems, watch baby dinosaurs hatch from eggs, and more. Fun learning activities throughout reinforce early learning concepts like colors, action words, counting, matching, and opposites."
CONNECT – You can like the Jim Henson Company on Facebook and follow them on Twitter.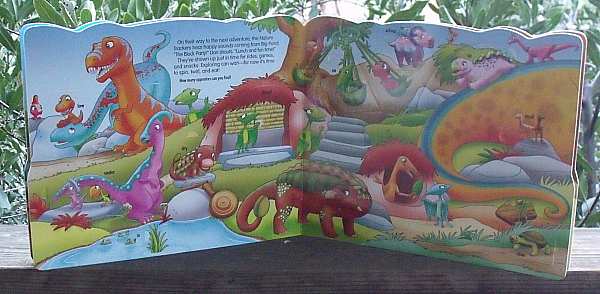 Enter daily through the Rafflecopter form below: