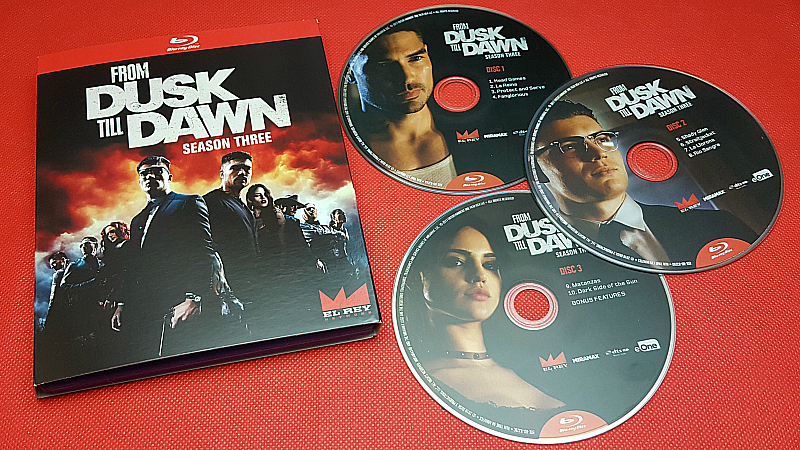 Horror fans, this one is for you!
Before Pulp Fiction, Kill Bill, Reservoir Dogs, Django Unchained and Hateful Eight, Quentin Tarantino wrote and starred in a movie called From Dusk Till Dawn. The black comedy horror movie has achieved cult status.
In 2014 the series based on the film premiered. The original director, Robert Rodriguez, also directs the series. They've done a fantastic job tying the series to the movie. The story stays true to the original characters and plot feeling like a believable extension of the original.
Each family has their own standards, but this one is probably best for adults due to the violence, language and intense scenes. Some of you may be fine with having your teens watch, too.
From Dusk Till Dawn, The Series
Season 3
Sony Pictures Home Entertainment
Release date 2/7/17
Synopsis: "The Series continues the Gecko brothers' saga as they fight their way through the chilling world of culebras, the vampire-snake hybrids that control hidden empires in Texas and Mexico. Once the baddest outlaws in the land, Seth and Richie made a run for the Border two years ago to save their lives – and their fortune. After stumbling into a bar full of bloodsuckers and bandits, the Geckos encountered the vampire goddess Santánico, joining her cause to settle an old score. It won them a place in the culebra world. Now that world is on the verge of violent and destructive explosion as new enemies hell-bent on domination gather to take them down. In typical Gecko fashion, Seth and Richie assemble an unlikely crew (some new, some old) to take on the forces of hell."
Enter daily through the Rafflecopter giveaway form below:
a Rafflecopter giveaway