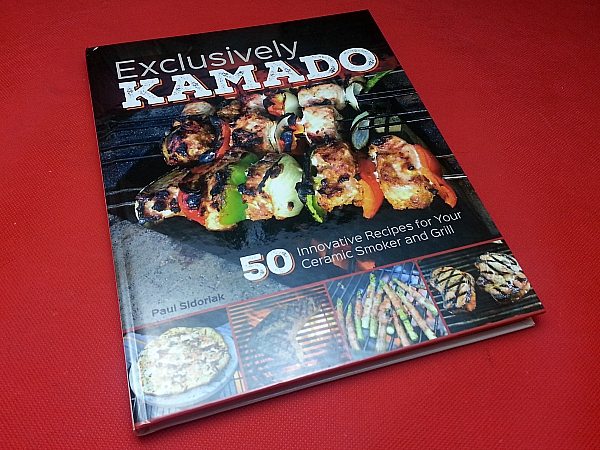 Grillers, this one is for you!
Are you familiar with the Kamado Grill? The ceramic grills are distinctively egg shaped. The design is a modern take on traditional clay pot cooking. These all in one cookers can be used for both grilling and smoking.
Exclusively Kamado is a cookbook that will have you creating grilled and smoked masterpieces in no time. It includes basic tips and instructions for using the grill along with specific recipes. You'll learn the skills to create these dishes and the basics that will help you venture out on your own.
Like other cookbooks from Ulysses Press, Exclusively Kamado is a beautiful book that is easy to use. The pictures are delectable and the layout and fonts make the book interesting and simple to follow.
Here are a few of the 50 recipes you'll find in the book:
Bacon Pistachio Pizza
Zesty No-fry Buttermilk Chicken
Blackened Salmon
Grilled Veggie Quesadillas
Exclusively Kamado

50 Innovative Recipes for your Ceramic Smoker and Grill
by Paul Sidoriak
isbn 978-1612434506
Pub. date 9/15/15
Description: "Forget hot dogs and burgers! Creative patio chefs are firing up their massive egg-shaped ceramic cookers and whipping up spectacularly delicious dishes that are simply impossible on traditional barbecue grills. Perfect for these backyard gourmets, Exclusively Kamado shows how to take wood-fired cooking to the next level with recipes and techniques for mastering this massively popular smoker and grill. Featuring 50 color photos Exclusively Kamado explains how to improve on traditional grilled and smoked meats like hickory smoked tri-tip, rosemary shrimp skewers, and 75-hour short ribs, then goes beyond to unexpected treats like French toast, chicken-and-waffle skewers, and pineapple upside-down cake."
SOCIAL MEDIA – You can connect with Ulysses Press on Facebook and Twitter.
Enter daily through the Rafflecopter giveaway form below: