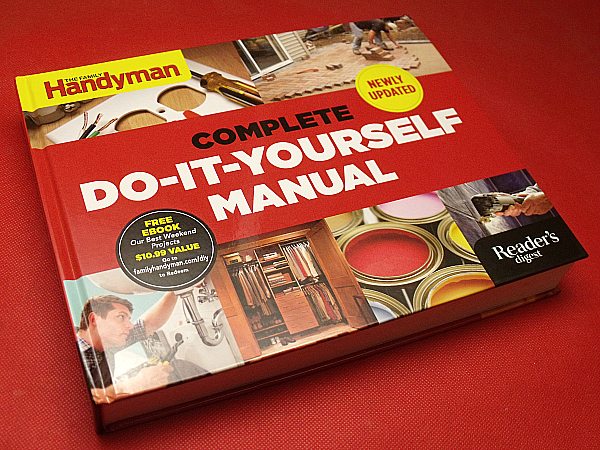 Are you a fan of Reader's Digest books and magazines?
When I see Reader's Digest on a book, I know it's going to be filled with great information that is easy to understand and gets right to the point. That is definitely true of the newly updated Complete Do It Yourself Manual from The Family Handyman.
The 528 page hardcover book contains a huge selection of instructions for repairs and home improvement projects. There are over 3,000 illustrations that make it easy for non-professionals to understand what needs to be done.
The manual includes some of the original projects, but has been updated to keep it relevant. There is an emphasis on using the best tools, supplies and technology for today to create long lasting improvements that are energy efficient, safe and functional for the way we live today.
This is an excellent resource guide to keep on hand for emergency repairs and fun projects around the house.

The Complete Do-it-Yourself Manual

Newly Updated
by Editors Of Family Handyman
isbn 978-1621452010
Pub. date 10/7/14
Description: "The bestselling, most comprehensive guide to home improvements has been revised and updated once again since it's revision in 2005. Over 10 million copies of READER'S DIGEST COMPLETE DO-IT-YOURSELF MANUAL have been sold since it's original publication in 1973. In 2005, the manual got bigger and better than ever, when The Family Handyman and Reader's Digest joined forces and completely revised, updated, rewrote, and redesigned this home improvement classic. Now in 2014, The Family Handyman has once again updated and revised this do-it-yourself classic to make it relevant to today's homeowners and DIYers . . ."
SOCIAL MEDIA – You can connect with Reader's Digest and Family Handyman on Twitter.
Enter daily through the Rafflecopter giveaway form below: