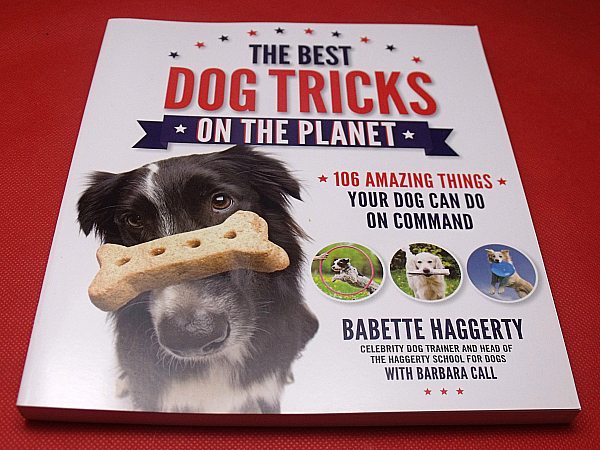 Sure, you can teach your dog to do the basics – sit, beg, roll over …. but you can also teach your dog a whole lot more.
Babette Haggerty has helped many train their dogs in person and through her appearances on TV and radio (Animal Planet, Martha Stewart…). She's worked with celebrities and other animal lovers. The book is dedicated to her famous father who is known for his work on David Letterman's Stupid Pet Tricks.
The Best Dog Tricks on The Planet contains step by step instructions for over a hundred tricks. There are photographs to illustrate the steps and lots of helpful tips. The tricks are rated based on difficulty and she gives time estimates for how long it will take your dog to master the trick.
Here are a few of the tricks that are included:
Walk on Hind Legs
Bring Me My Keys
Downward Dog
Ring the Doorbell
Hokey Pokey
Jump through a Hoop
This book would be a great gift for a dog lover.

The Best Dog Tricks on the Planet

106 Amazing Things Your Dog Can Do on Command
by Babette Haggerty and Barbara Call
isbn 978-1624140044
Pub. date 10/22/13
Description: "With this fun, quirky and creative training guide your dog will be doing everything from fetching and answering phones to sorting the laundry and strumming a guitar! Babette Haggerty has trained Jack Nicklaus' Golden Retriever to bark the number of his major tournament wins on command and Jimmy Buffett's Maltese to dance on cue to "Margaritaville." In this book, she offers up her best dog tricks, many of them featured by her famous father, Captain Haggerty, on David Letterman's "Stupid Pet Tricks.""
Enter daily through the Rafflecopter giveaway form below: