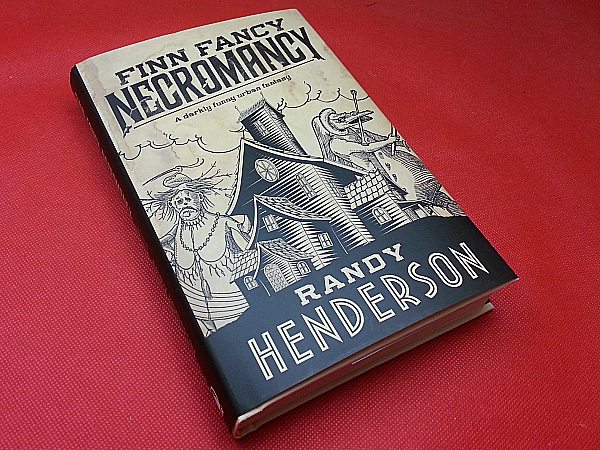 Do you have a dark sense of humor? As you may have guessed from the title and cover image, Finn Fancy Necromancy is a quirky, absurd and unique urban fantasy.
Randy Henderson has published short works of fantasy fiction in the past and this is his first novel. In 2014, he was the Golden Pen Grand Prize winner of Writers of the Future. He has a unique voice and the story moves quickly as it twists and turns. There is plenty of drama and humor that builds as the story progresses.
Fans of the genre will enjoy jumping right in. If you haven't read urban fantasy before and enjoy dark humor, this just may be an excellent introduction to the genre.
Finn Fancy Necromancy

by Randy Henderson
isbn 978-0765378088
Pub. date 2/10/15
Description: "Twenty-five years ago Finn Gramaraye was framed for the crime of dark necromancy and at the age of fifteen exiled to the Other Realms. As soon as he gets back things start going wrong – and he finds himself once more accused of a crime he isn't guilty of. Now he has three days to prove he's (mostly) innocent to the Arcane Enforcers and he's got just his family, another former exile, and his zany neighbor to back him up. Finn has to fend off witches, fight a sasquatch, haggle with gnomes, find a date for his brother, and figure out who in his family is lying to him. Faced with enemies who don't respond to sarcasm and snark, Finn will have to draw on his talent for speaking to the dead – when all he really wants to do is catch up on twenty-five years of music and pop culture. And movies. He can't wait to see Star Trek IV."
Enter daily through the Rafflecopter giveaway form below: