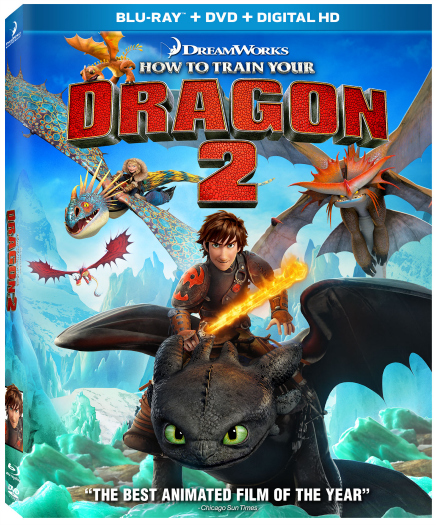 How to Train Your Dragon 2 was a hit in theaters earlier this year and is now being released on Blu-ray and DVD, so your family can watch this magical adventure again and again!
Sometimes sequels don't live up to the quality of the original, but in this case I am impressed. The story is great and the animation is absolutely amazing. It's so vivid that the dragons seem real. At some points in the movie, I actually felt as if I was riding a dragon instead of sitting comfortably in my living room.
The 2 disc Blu-ray, DVD + Digital HD combo includes a wonderfully excessive amount of bonus features. There are four featurettes (Fishleg's Dragon Stats, Drago's War Machines, Berk's Dragon World, Hiccup's Inventions in Flight), deleted scenes, a 60 minute behind the scenes documentary and more.
How to Train Your Dragon 2 is a fun and imaginative adventure!
How to Train Your Dragon 2

20th Century Fox
Not Rated
Release date 11/11/14
Synopsis: "The thrilling second chapter of the epic How to Train Your Dragon trilogy returns to the fantastical world of the heroic Viking Hiccup and his faithful dragonToothless. The inseparable duo must protect the peace and save the future of men and dragons from the power-hungry Drago when Twentieth Century Fox Home Entertainment releases DreamWorks Animation's critically acclaimed How to Train Your Dragon 2."
Enter daily through the Rafflecopter form below: