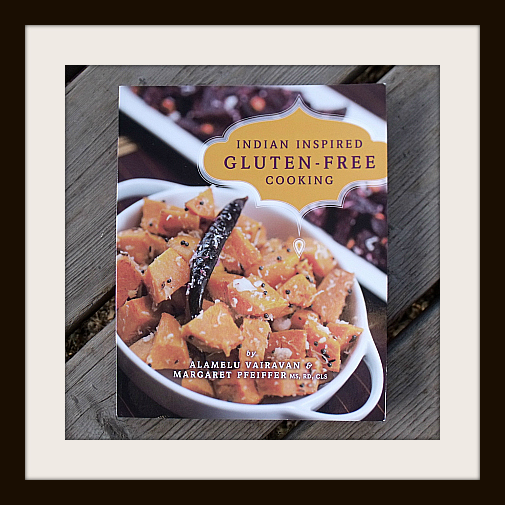 My family loves Indian food. The fresh ingredients and spices make the food look and taste good. Usually, I choose to go out for authentic Indian food since my skills are lacking.
With Indian Inspired Gluten-Free Cooking, I've got the confidence to try making restaurant quality Indian dishes at home. Alamelu Vairavan has done an excellent job with these recipes, so that they are easy to follow even if you've never cooked Indian food before.
The ingredients can be readily found at a regular, chain grocery store. Most of the spices are already in my pantry – cumin, coriander, turmeric, mustard seed, ginger, cinnamon… I just didn't know how to combine them to create these dishes. If you've got an Indian market nearby, you can pick up these spices and a whole lot more very inexpensively.
Sometimes gluten-free cooking and baking can be time consuming, but that isn't true with these recipes. Gluten-free and Indian food are a natural combination. There are also many vegetarian and vegan dishes that provide plenty of protein.
Indian Inspired Gluten-Free Cooking

by Alamelu Vairavan & Margaret Pfeiffer
isbn 978-0781813068
Pub. date 5/15/13
Description: "Among the first of its kind, Indian Inspired Gluten-Free Cooking is spicing up the gluten-free lifestyle with one of the healthiest and easiest cuisines in the world. Indian food lends itself naturally to gluten-free cooking because the vegetable and rice dishes are enhanced with spices and legumes without wheat, oat or barley. That, along with requests from her students and viewers of her PBS program "Healthful Indian Flavors with Alamelu," is precisely why veteran author and culinary instructor Alamelu Vairavan decided to write Indian Inspired Gluten-Free Cooking. Together with Registered Dietician Margaret Pfeiffer, Alamelu introduces the rich aromatic dishes of India to a market focused mainly on gluten-free breads and desserts."
Here are a few of the recipes that are included in the book:
This is a beautiful cookbook that is enjoyable to look at and use. It would make a lovely gift!
Enter daily through the Rafflecopter form below: