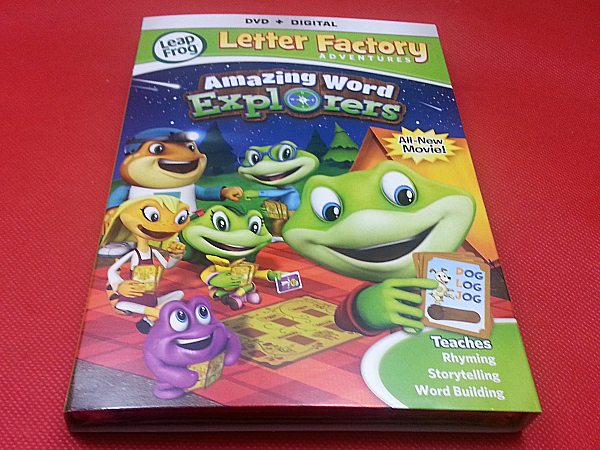 Leapfrog knows just how to make learning fun!
With some children's programming, they are 'sneaky' about the learning. It's woven into stories, so kids pick up on it without even realizing it was educational. With Leapfrog, kids know exactly what's going on. The DVDs are definitely entertaining, but children understand that they are learning and that it's good to get an education. This kind of attitude is very helpful as kids go to school.
Amazing Word Explorers is a brand new movie in the Leapfrog Letter Factory Adventures series. The DVD teaches rhyming, storytelling and word building. There is sing-along music for extra fun and a parents curriculum guide, so that parents can help their kids make the most of the DVD.
The program is recommended for children ages 3 to 6. It is great for preschoolers who want to get a head start at home before they go to school and will help kindergarteners and first graders enhance what they are learning in class.
Leapfrog helps kids get excited about learning!

Leapfrog:
Letter Factory Adventures
Amazing Word Explorers

Lions Gate
Release date 3/3/15
Synopsis: "Explore the joys of building words and creating stories as Leap, Tad, Lily and friends go on a camping adventure to see a meteor shower! Follow along as they learn to rhyme in song, and then build words and develop amazing stories in a super-fun game with picture and letter cards. Join the LeapFrog friends as they discover stories can come from anywhere—all you need is imagination!"
Enter daily through the Rafflecopter giveaway form below: