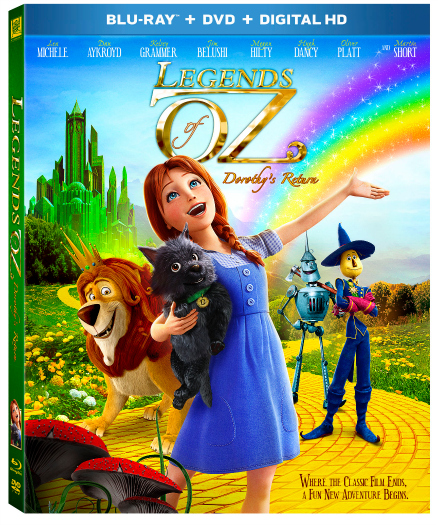 Are you a Wizard of Oz fan?
I can still remember the first time I saw it in black and white on our little family TV. I really wanted to like it and I'm sure I pretended I did when my friends were all talking about it at elementary school the next day, but I was terrified. When I watched it again later when I was older, I loved it and appreciated the magical story.
Legends of Oz: Return of Dorothy continues the story as a kid friendly, animated feature. It's got the right amount of 'scary' to keep kids entertained, but I know this one wouldn't have given me nightmares the way the original did. The CGI animation is bright and colorful, and, of course, Dorothy is ready to help save the day.
The movie features many famous voices that adults will recognize – Dan Aykroyd, Bernadette Peters, Kelsey Grammar, James Belushi and others. They really do a fabulous job of bringing these iconic characters to life.
The movie is definitely geared more towards kids than other Oz spinoffs. The story, animation style and humor are all fun and kid-like. It's rated PG and I would guess that most parents would be ok with having their littler kids watch.

Legends of Oz

Return of Dorothy
20th Century Fox
Rated PG
Release date 8/26/14

Enter daily through the Rafflecopter form below: