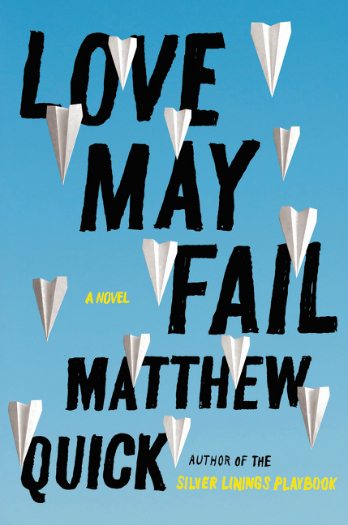 Have you ever felt like your life is out of control? Whether you think of it as a meltdown or a midlife crisis, there are times when a fresh start is exactly what's needed to make sense of the past and shape the future.
Love May Fail is the story of a woman at a crossroads. A philandering husband is the catalyst for this unappreciated and unfulfilled housewife to set off on an adventure. Her story is both poignant and hilarious. The cast of characters is quirky and likable. As I read, I thought this would make a great movie.
Matthew Quick, who goes by Q, is an award winning novelist with several bestselling books to his credit. The Silver Linings Playbook was already made into a movie and my guess is that Love May Fail may head in that direction, too.
Love May Fail

A Novel
by Matthew Quick
isbn 978-0062285560
Pub. date 6/16/15
Description: "Portia Kane is having a meltdown. After escaping her ritzy Florida life and her cheating pornographer husband, she finds herself back in South Jersey, a place that remains largely unchanged from the years of her unhappy youth. Lost and alone, looking to find the goodness in the world she believes still exists, Portia sets off to save herself by saving someone else—a beloved high school English teacher who has retired after a traumatic incident. Will a sassy nun, an ex-heroin addict, a metal-head little boy, and her hoarder mother help or hurt her chances on this madcap quest to restore a good man's reputation and find renewed hope in the human race?"
SOCIAL MEDIA – You can connect with Harper Collins on Facebook and Twitter.
Enter daily through the Rafflecopter giveaway form below: