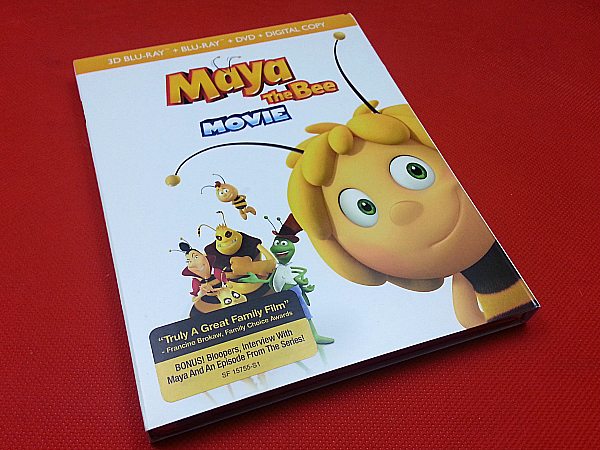 Have you met Maya the Bee? This family movie is full of fun!
The Adventures of Maya the Bee is a children's book by Waldemar Bonsals that was originally published in Germany over a hundred years ago. The novel has been translated into many languages and has led to a comic book series, an animated television series and now a feature length movie.
The movie is rated G and great for all ages. There is adventure and drama, but nothing is too tense or scary. The blu-ray and DVD combo pack includes lots of fun bonus features including an episode from the TV series, an interview with Maya and, my favorite, bloopers.
There are some great lessons to be learned from this sweet little bee!

Maya The Bee Movie

Shout! Factory
Rated G
Release date 5/19/15
Synopsis: "Maya is a little bee with a big heart. She dreams of an exciting life of freedom, fun and adventure – the world is simply far too interesting to stay inside a hive! Her funny attempts to fit in bring her into trouble with the Queen's narrow-minded royal advisor, Buzzlina. With her best friend Willy, Maya buzzes out into the meadow on an exhilarating adventure of self-discovery. While most bees believe that other insects should be feared, Maya can't help but make friends with Flip the charismatic and eccentric grasshopper, Kurt the dung beetle and even Sting, a young hornet. But when the Queen's royal jelly is stolen, it will take Maya and all of her bug buddies to figure out who did it and how to save the day!"
SOCIAL MEDIA – You can connect with Shout Factory! on Facebook and Twitter.
Enter daily through the Rafflecopter giveaway form below: