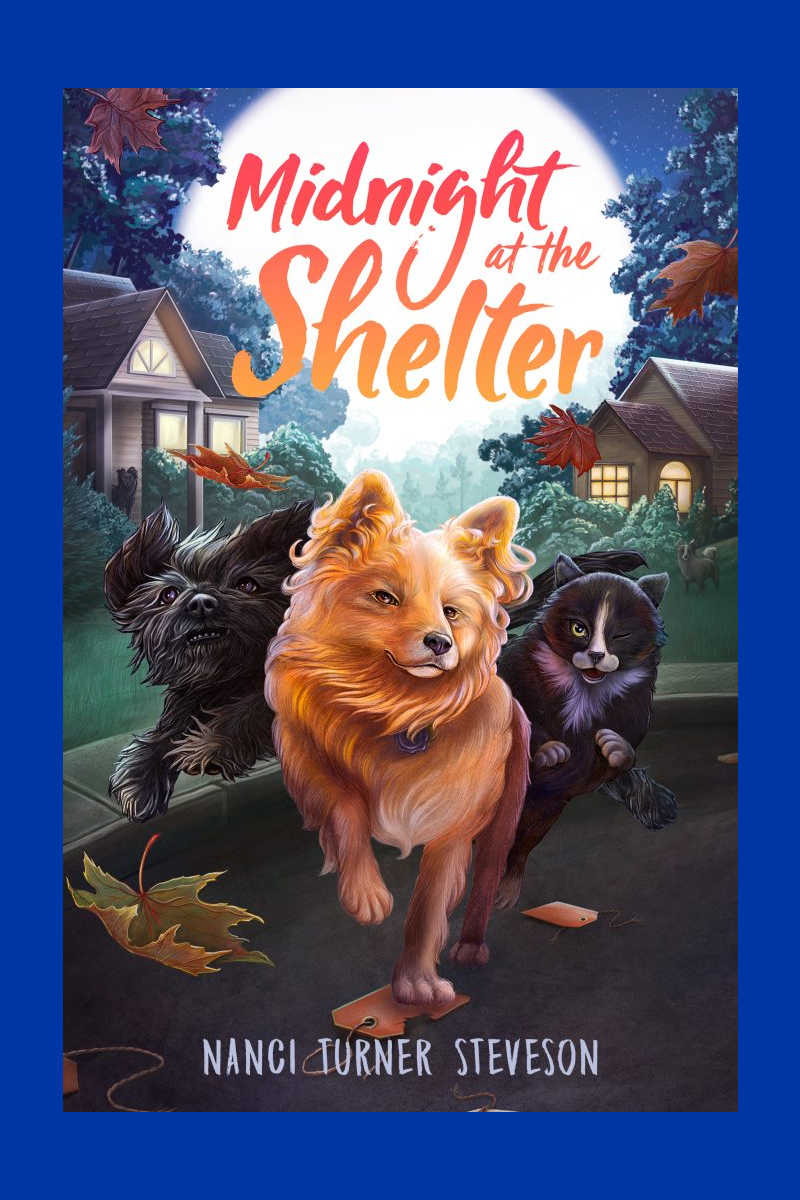 Welcome to the Midnight at the Shelter Blog Tour!
Follow along as we celebrate the release of Midnight at the Shelter (November 1, 2022) with behind-the-scenes looks from author Nanci Turner Steveson!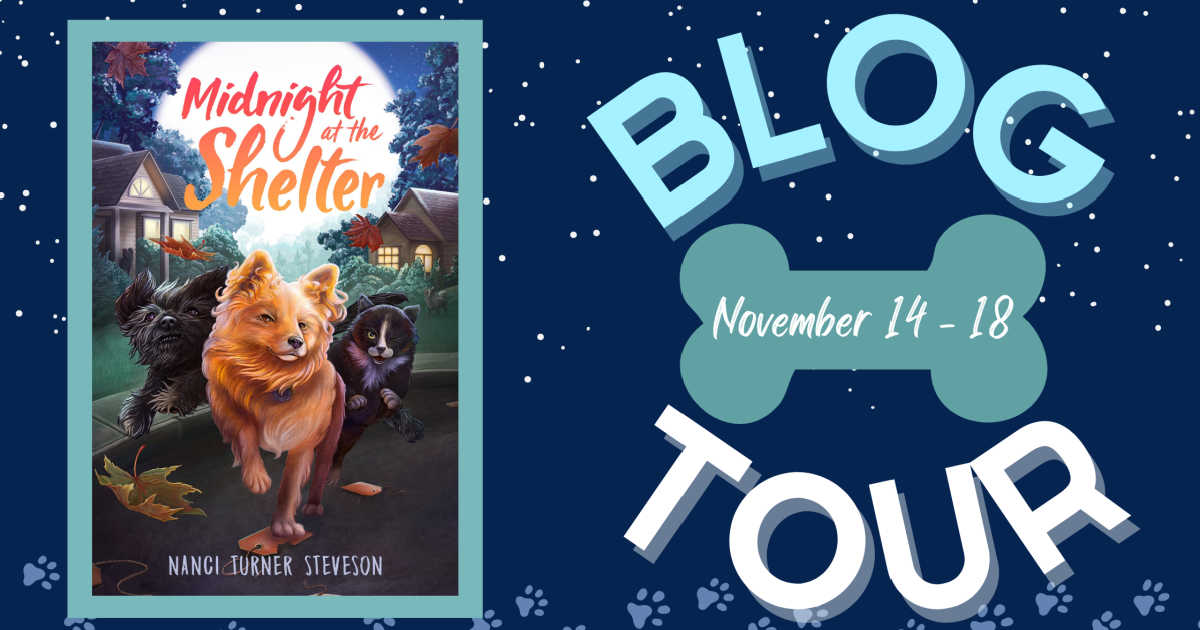 Challenges and Opportunities and Dreaming the Big Dream
by Nanci Turner Steveson author of Midnight at The Shelter
First Novel
I still have a copy of the first "novel" I ever wrote, thanks to my mother who saved it.
At 9 years old, my name was still spelled with a 'y' I'd been a die-hard horse-girl for 2/3rds of my life, and had just finished reading Black Beauty.
I remember closing that orange, hardcover book with the pencil drawings inside and knowing without a doubt that I would become an author when I grew up.
I'd write for kids my age, and my books would have lots and lots of animals in them.
It took 49 years for that dream to come true, a lot longer than I imagined at age nine, but it all started with a little story I wrote and illustrated called Silver Eagle and Buffalo.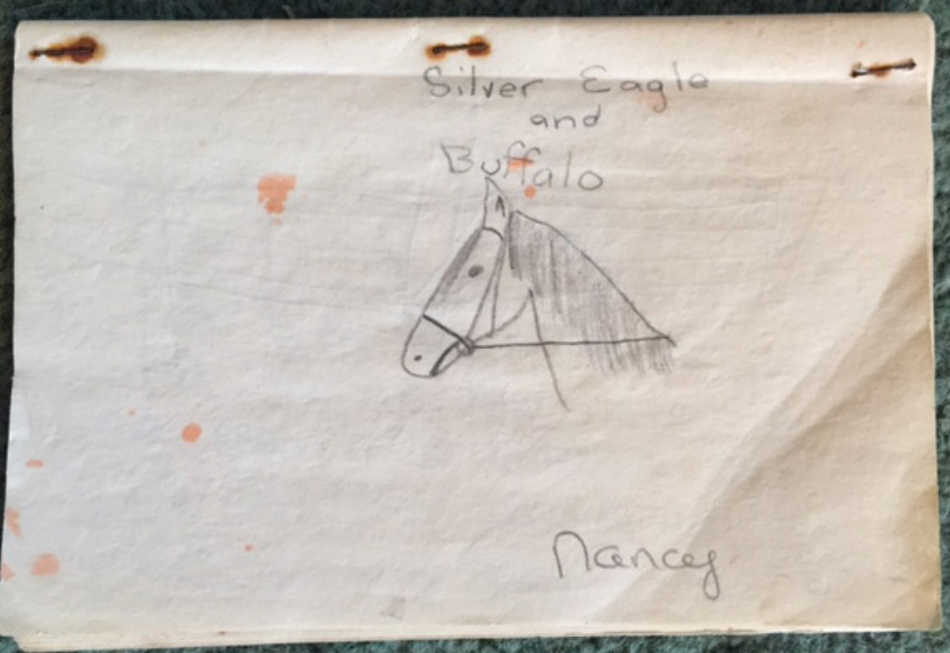 I worked so hard on that book and tucked it away in a secret drawer every night so none of my four brothers could find it.
No one should see it because "real" authors went through hundreds of revisions before sending their work out into the world.
I knew that from a friend's father who was an author.
But here's the thing, that first novel of mine stops halfway through a sentence, almost as if someone had found my secret drawer and whisked my pages away.
That isn't what happened, though, I just didn't finish.
Not finishing things was a pattern and was why school was always so darn hard for me.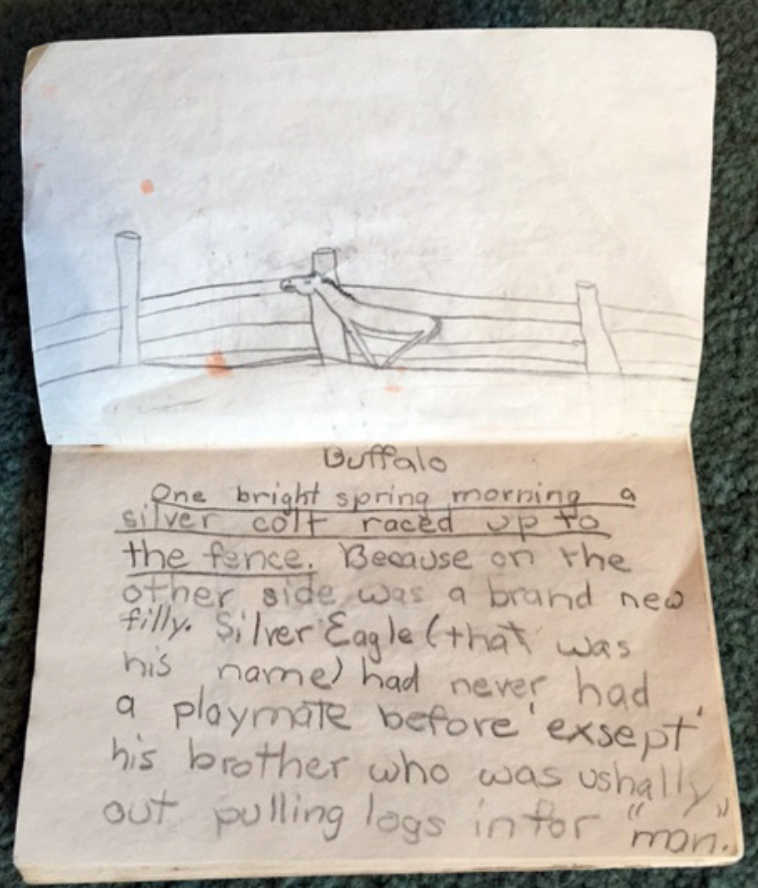 Challenges
What I didn't know until my mid-30's was that grew up with undiagnosed ADD.
Throughout my school years there were dozens of report cards (that I still have) with teachers writing things like, "Nanci is so bright and would do so well if she could only finish her work," or "Nanci could accomplish so much if she would only pay attention/be on time/not be so emotional."
After my youngest son was diagnosed with ADHD, I went through three days of testing and finally understood why so many things in my life felt so hard.
The Teen Years
But that learning disability, diagnosed or not, didn't quell the passion for writing burning inside me and I never quit. I never gave up.
No matter how hard it was, I was determined to realize my dream.
For a time I wanted to be a journalist and started my own "newspaper" called The Shed Reporter where I wrote about all the horses at the barn where I took lessons.
Then I wanted to be an English teacher, imagining I could read and write all day and work with students who wanted to learn as much as I did.
When I was a teenager I wrote a whole lot of super-angsty poetry.
I even achieved star status for a day when one of them was published in my high school newsletter.
And I am only somewhat embarrassed to say that several of my friends graduated high school because I wrote their senior essays for them.
Yes, I even loved writing essays!
The Adult Years
I kept writing throughout my 20's and received an encouraging letter from James Michener telling me to keep working and keep learning.
I raised my two sons alone working 70-75 hours a week on a horse farm until finally, when I was closing in on 50, I heard the call to write again, strong and clear.
Probably more so because with age comes experiences, and from that comes more stories waiting to be shared.
So, I went back to the job that left me with creative energy at the end of the day and started teaching myself how to write.
Swing Sideways
When my first book, Swing Sideways, was published in 2016, it was a tremendous victory both personally and professionally.
The day of my launch party my mom gave me an envelope with that first little novel tucked inside and said, "This is a reminder of all you have accomplished even when the odds were stacked against you.
You had a dream, you worked hard, and you made it come true."
The ADD was only one of many obstacles to overcome.
Success
Now my fourth book is out and one of the best parts of my job as an author is visiting schools and teaching kids all around the country.
In my presentations I always share the challenges I faced growing up, all the things that made it unlikely I would succeed, because it is so important for kids to know there are others out there like them and that at the right time, with hard work, they, too, can live their dream.
About the Book
Written with a distinctively doggy voice, great humor, and plenty of heart, this novel from acclaimed author Nanci Turner Steveson is a perfect pick for readers looking for a touching animal story in the vein of Because of Winn-Dixie or Marley & Me.
Rescue dog MahDi is happy helping his human partner, "MomDoc," with the important work at her vet clinic and the local animal shelter.
The two of them make a good team, caring for the town's pets and matchmaking rescue animals with the families who need them.
When the shelter is suddenly down a staff member, the animals have to deal with a new caretaker: Huck, an unpleasant man who seems to have no problem threatening the animals he's supposed to care for.
As more dogs crowd into the shelter than are going to new homes, MahDi begins to worry that if MomDoc isn't around, there is no telling what Huck might do.
With three perfectly good legs, the heart of a true leader, and his pack mates by his side, MahDi is willing to risk everything to save his shelter-friends from an uncertain future.
Praise:
"Each dog's story illustrates one of the many ways dogs come to need new homes and how wonderful rescue animals can be." – Kirkus Reviews
"Alternating dogs'-eye views propel this immersive pack story from Steveson… Themes of love, hope, and belonging resound throughout, balancing the sometimes-dark content." – Publishers Weekly
About the Author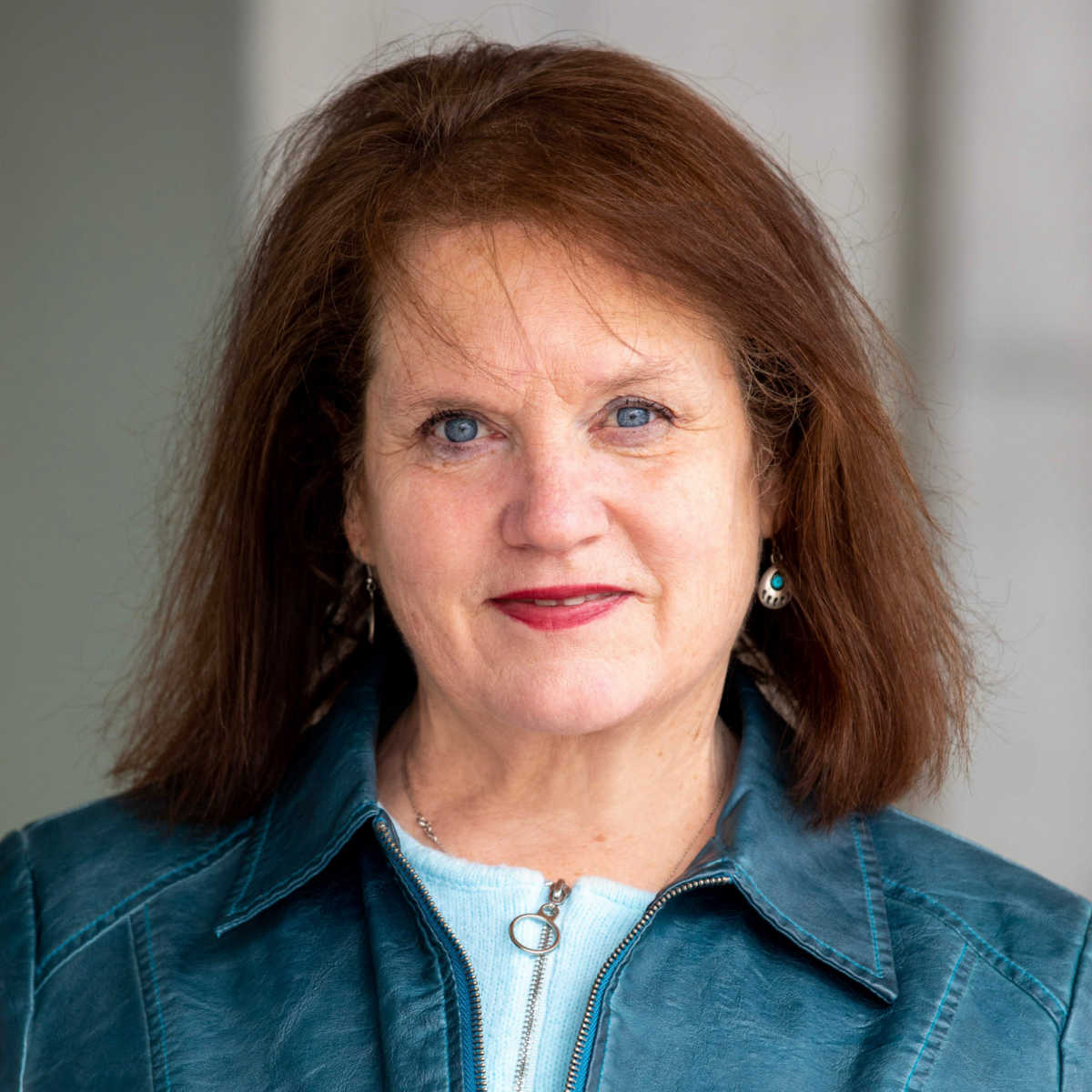 Nanci Turner Steveson grew up in Connecticut, England, and Texas, always with a book in one hand, the reins of a pony in the other.
She wrote her first "novel" at the age of nine about a wild horse named Liberty.
Nanci works with the Off Square Theatre Company as a stage manager and youth-performer shepherd.
She is a reading fairy to book-hungry children and a riding instructor.
The mother of two grown sons, Nanci lives in a meadow at the foot of the Grand Tetons in Jackson Hole, Wyoming, with her Arabian horse and a 100-pound rescue dog named Story.
She is the founder of the Literacy for Hope project, dedicated to getting books into the hands of the homeless.
Mama Likes This – November 14th
YA Book Nerd – November 15th
Pragmatic Mom – November 16th
Teen Librarian Toolbox – November 17th
YA Books Central – November 18th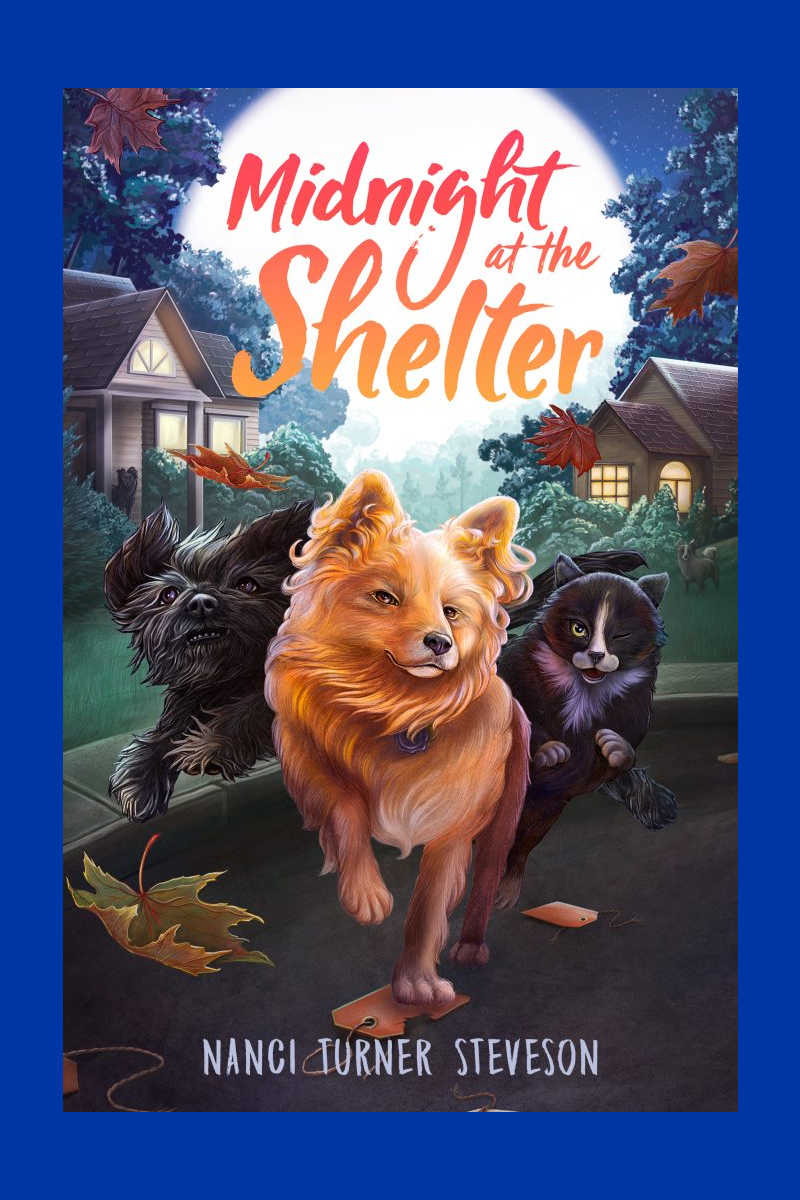 More from Mama Likes This
Take a look at my other entertainment articles, so you can keep up with the latest TV, movie and book news.
Printable Activity Pages
Check out my free printables, when you are looking for fun activities to do at home.
Many are from Disney, Netflix and Shout Factory, so they feature movies, TV series and characters that your kids already know and love.
Some are educational, but others are just plain fun.
There are coloring pages, crafts, word puzzles, mazes, memory games and many other family friendly activities.
Free Printable Coloring Pages Featuring Dogs & Some Cats
Free Paw Patrol Printables
Paw Patrol Video Game
Shopping Deals
Check out the latest online deals, so you can save money and pick out some great products for yourself and your family.
What will you buy first?