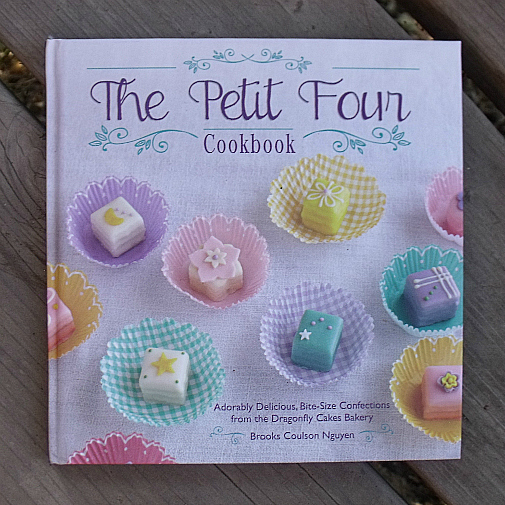 Aren't these little treats beautiful? Dessert doesn't have to be huge or leave you with a belly ache from overdoing it. The Petit Four Cookbook will teach you how to make these lovely mini-cakes that are visually appealing and taste delicious.
Petits fours originated in France in the 1800's. The name means 'little oven.' They were made by French bakers after their bread had finished baking at a high temperature and the oven was cooling down. The tiny cakes are made up of layers of moist cake, buttercream and marzipan and then coated or decorated with chocolate.
The cookbook by Brooks Coulson Nguyen is a pleasure to look through. The photographs are yummy and really spark the imagination. There are recipes for expected flavors (chocolate, vanilla, lemon) and others that you may not have tried as petits fours before (pumpkin, gingerbread, coconut). She has recipes for a variety of holidays and occasions. You may want to copy her designs exactly. Or you may want to use them as inspiration to create something unique.
The Petit Four Cookbook

Adorably Delicious, Bite-Size Confections from the Dragonfly Cakes Bakery
by Brooks Coulson Nguyen
isbn 978-1612432281
Pub. date 11/19/13
Description: "The Petit Four Cookbook reinvents an 18th-century French delicacy and brings it straight to the reader's kitchen. With flavor combinations ranging from classic vanilla, chocolate ganache, and lemon butter cream to tangy apricot, raspberry preserve, and rich mocha, there is no end to the types of cakes one can make. The hottest trend in baking is tiny desserts, and these decadent morsels are the quintessential bite-size indulgence."
CONNECT – You can like Ulysses Press on Facebook and follow them on Twitter.
Enter daily through the Rafflecopter form below: